Lady Gaga – "Born This Way"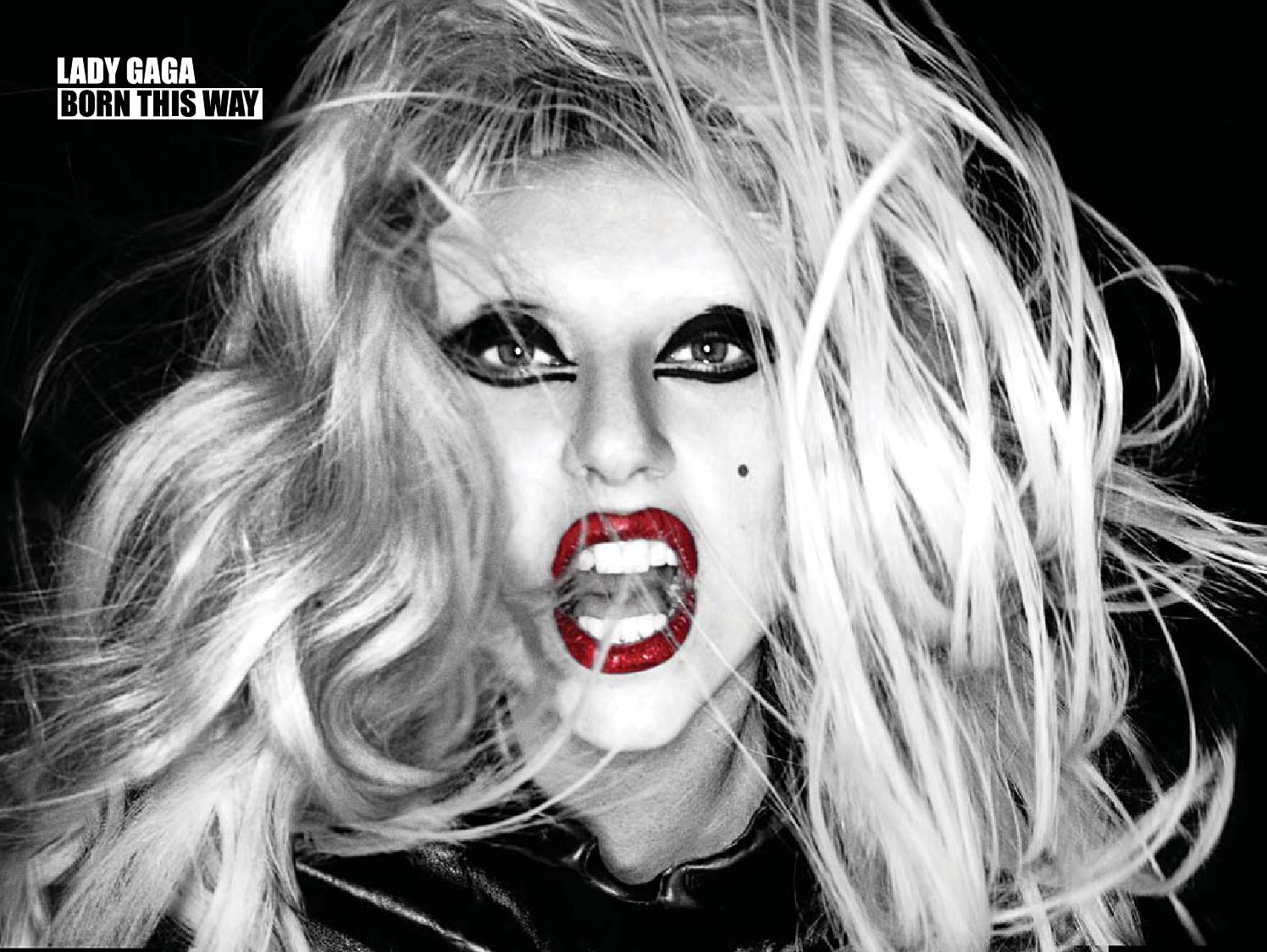 Kanye West may be the world's most over-the-top pop star—the most annoyingly inescapable celebrity who also manages to push America's buttons—but he's got some healthy competition from Lady Gaga, the First Lady of Freak.
Like Kanye, Gaga chases dreams and themes and artistic visions down her own uniquely hollowed-out rabbit hole, and she seems to care very little about whether her critics or less adventurous fans follow on the journey.
Which explains "the meat dress."
And the ridiculous inmate video for "Telephone."
And those creepy pointy shoulders she donned for her Grammy performance last night.
She's pulled some super surreal shit in her day. So much so that, in the grand sweep of her quasi-Dadaist visual assaults, it's easy to overlook the fact that her music is actually quite ordinary.
Besides an absurd lyrical approach or two, The Fame Monster is a dance-party turned horror film, and any song with a euphemism as awkward as "disco stick" suggests a complete disregard for good taste. In fact, most Lady Gaga songs couldn't be more traditional, faithfully following the now-blueprinted template for 21st century dance-pop: Simple, bass-heavy synth patterns; four-to-the-floor programming, and hummable, sky-high vocal hooks.
Gaga has drummed up some serious hoopla in anticipation of "Born This Way," tweeting incessantly about the track's all-encompassing, anthemic merits and teasing her "little monsters" with the song's lyrics in advance of its release date.
Through her androgynous visual displays and all-encompassing sexual palette, she's always sought to simultaneously creep-out Middle America and expand pop music's sexual vocabulary, but with "Born This Way," Gaga wanted to craft a "gay anthem," a unifying, hand-holding, glow-stick-waving club epic that will live in polarizing infamy. But like the rest of Gaga's oeuvre, there's very little in the way of "revolutionary" happening on "Born This Way." And it's truly a shame—with some added muscle to the highly derivative music, this could have been the righteous middle finger to Middle America that she intended.
"Born This Way" starts with an invitation from Gaga to "put your paws up," and it's hard to resist. This is a catchy track—there's little doubt about that, with Gaga sailing to another silky chorus above a steady electro-thrust. But it's musically stale, working a predictably bass-boosted synth pattern for the song's entirety. The verses are strangely more effective than the choruses, Gaga shimmying her way around a soulful melody, but it's difficult to fully embrace the hooks because—as many listeners have already put forth—"Born This Way" is distractingly Madonna-esque, playing like a Greatest Hits collection crammed into four-and-a-half minutes and touching on everything from "Vogue" to "Ray of Light" (but most closely favoring the sunshine-soul of "Express Yourself").
Gaga's got balls (not literally; I'm not getting into that debate)—there's little chance outside of a hilariously awkward radio edit that "Born This Way" will end up as consistent a Top 40 mainstay as previous bangers like "Bad Romance" and "Poker Face," (ironically because of the lyrics' sexual equality).
In the track's bridge, Gaga delivers a gender empowerment calling card: "No matter gay, straight, or bi,
lesbian, transgendered life/
I'm on the right track, baby. I was born to survive." It's a brave twist on what could have been a typical girl-power sentiment, and no other American pop artist could deliver the line with such honesty and passion.
In her quest to craft a "gay anthem," she has succeeded. Too bad she couldn't deliver a "pop anthem," as well.