Honeyhoney on Hiatus: Revisit our 2008 Interview with Suzanne Santo
Like Honeyhoney itself, First Rodeo is hard to classify. It simmers then boils; it whispers then howls. Throughout, Santo delivers stunning performances that will make you wonder why the hell you haven't heard of her yet.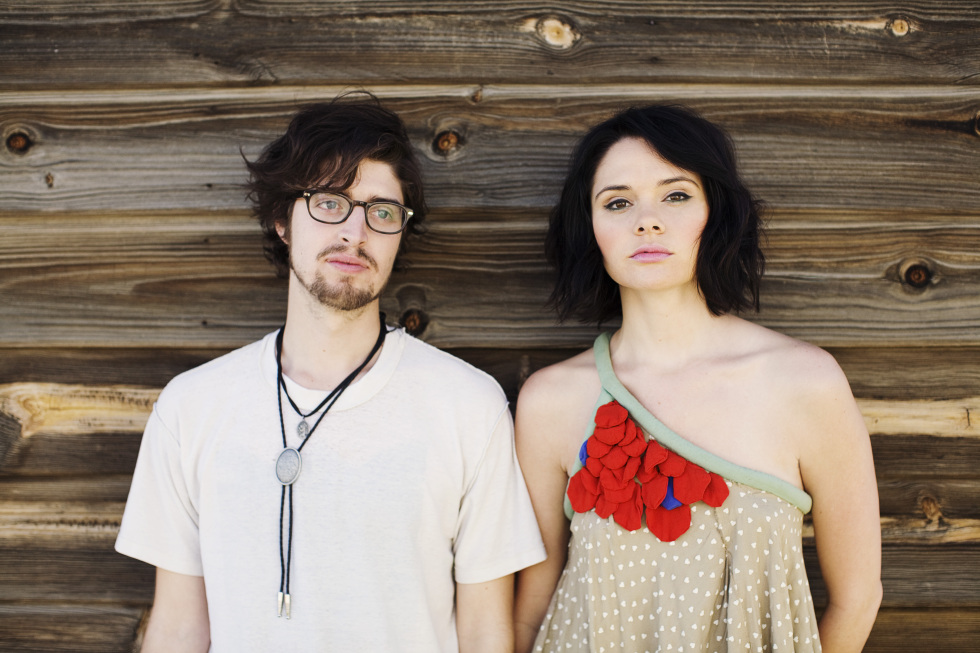 According to lead singer, fiddler and banjoist Suzanne Santo, Honeyhoney isn't country. But on the Venice CA duo's debut album First Rodeo, the powerful vocalist and her musical partner Ben Jaffe have crafted a style that is rootsy and rhythmic, one which sounds deeply and naturally connected to the genre's traditions. Lyrically, the record is stark and raw, marked by moving songs of love, homecoming, fear and anger. That First Rodeo occupies this particular musical space is not surprising given Santo's influences.
"I love bluegrass, Appalachian type stuff," she explains. "I listen to a lot of Earl Scruggs and Pete Williams, Johnny Cash. Gillian Welch."
But Santo has eclectic taste, also citing Tupac and Master P as influences. And while you won't find anything resembling 90s gangsta rap on the record, it does brush up against jazz, blues, and even ska (on the delightfully frantic "Give Yourself To Me").
"We weave in and out, like we're drunk-driving through music genres," Santo says. "Let's go a little more rock this time, or let's go a little more cowpunk. And I like to believe that people will take to our music because of that."
Finding Her Way, The Hard Way
Growing up in a small town in Ohio, Santo spent her early teens busing tables at her grandparents' Italian restaurant and dreaming of something different. At age 14, she landed a few small-time modeling gigs, which opened the door to bigger gigs in Chicago and Tokyo. Two years later she was fully immersed in the modeling world and moved to New York City, where she attended a private performing arts school. From a family of modest means, Santo financed her education with the earnings from her photoshoots.
"Pretty much anything I made would go to the school," she says.
At first, her parents made frequent trips into the city to visit and attend to her business affairs. But the strain of so much travel wore on them. Santo was emancipated when she was 17. She was living on her own and fending for herself. And her modeling work was drying up.
"It was a really hard time," she says. "My body started to change and I wasn't landing as many jobs. I had never had to diet before. I had never had to cut back anything that I was eating. When my body started changing and I was getting curvy, I wasn't working as much and I needed to pay my rent. And the stress it would put on me would be really scary."
So she tended bar and waited tables at a barbecue joint. She worked as a nanny and a building manager. She struggled to keep things together, and she started mapping out a new path for her future.
"We're Definitely Not Named After the Abba Song"
While in New York, Santo started acting. Her acting aspirations eventually led her to Los Angeles. She even scored a few small roles in shows like Law & Order and Without a Trace. But she was also writing music and performing at open mics around town, which is where she caught the attention of a music engineer known as "The Double" who had worked with Jaffe—a New England native and Gershwin-bred classical music fan who was previously the guitarist for Sonya Kitchell—on a solo project credited as Black Tie Society. The Double introduced the two, and it didn't take long for a new partnership to bloom.
"We started singing each other's songs and mushing 'em together and then we started writing together," Santo says. By the time the two new collaborators had finished their second song ("Come on Home," which appears on First Rodeo), they realized that something special was brewing.
"After we wrote that song we thought, wow, this is great. Let's keep doing this."
Santo and Jaffe officially joined forces not long after, under the moniker Zanzabar Lewis—a title coined from Suzanne's childhood nickname. After signing with Kiefer Sutherland's Ironworks Records, the duo wanted to find a name that more accurately reflected the tone of their music.
"We choose Honeyhoney because it's kinda southern and sassy," Santo explains. "We're definitely not named after the Abba song."
"I Can Smack His Ass Around"
"We're married without the candy," Santo says of her relationship with Jaffe, not really joking. "Sometimes Ben and I forget to hang out because we're so busy. But he's hilarious. I freakin' love that kid. But no nookie."
"Besides," she says, "I'm about six months older, so that means I can smack his ass around."
Their personal relationship may be platonic, but First Rodeo is a sexy and intimate record. Jaffe's churning guitar rhythms complement Santo's sometimes soaring, sometimes searing vocals. The first single from the project, "Little Toy Gun," is smoky and dangerous—a modern gunslinger of a track. On "Sugarcane," the subtle moan of a steel guitar underscores unforgiving lyrics: "You say you're fine and sigh, sigh, sigh/So when I fuck around, don't ask me why."
Like Honeyhoney itself, First Rodeo is hard to classify. It simmers then boils; it whispers then howls. Throughout, Santo delivers stunning performances that will make you wonder why the hell you haven't heard of her yet.
"When we signed our deal, Ben was teaching music at a store in Redondo Beach, and I was doing all these different day jobs," she explains. "Before we signed, it was really hard to keep our jobs and continue to be busy with music and have time to write and practice. And when we finally signed and got our advances, we were able to live off of music as a job, which still blows my mind. I'm like, holy shit, I don't have to sell barbecue anymore. I don't have to watch babies to pay my bills. When you work in the service industry or you're a teacher it's consumes a lot of your time and at the end of the day you're really tired and exhausted and it's harder to be creative. I feel like we have more room now to be creative."