Interview with Eric Gibson of The Gibson Bros.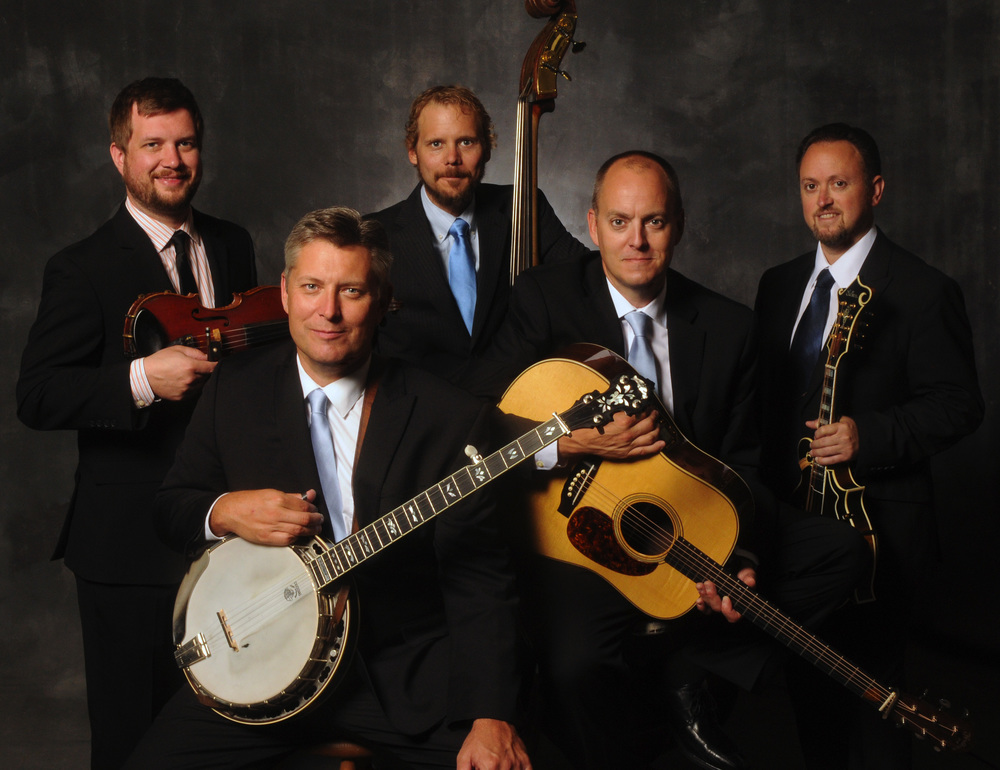 Saturday's DC Bluegrass Festival will be co-headlined by two of bluegrass music's hottest acts: Claire Lynch and the Gibson Brothers. Eric and Leigh Gibson recently released their tenth album, Help My Brother, and it's zooming up the charts, not to mention burning up the WAMU Bluegrass Country airwaves. We got the chance to chat with banjo player Eric about the new record, the upcoming festival, and Tom Petty.
American Noise: Help My Brother is your tenth album. How have the Gibson Brothers evolved since that first record?
Eric Gibson: I think we've become hopefully stronger in every aspect. I know we've become stronger singers. We really keep our ears out for one another, particularly on the last couple of albums: we've begun singing on one microphone, laying down our harmonies at the same time. I think we've become better musicians and better writers. I think we know what to throw away and what to keep, and I'd like to think we know how to make a record. Unfortunately, you lose your youth, but you gain other things (laughs).
AN: Growing up in upstate New York, how did you and Leigh first get into bluegrass music?
EG: My father liked bluegrass—Mom and Dad liked a lot of different types of music, but I remember Dad listening to bluegrass on the radio on the weekends. I have to be honest with you: I didn't care for it so much. As a kid I preferred hearing Don Williams and Merle Haggard. But then there was a guy giving banjo and guitar lessons at a local music store and we had a banjo and guitar in the house. For some reason, I chose the banjo; I always liked the sound of one. Then I got hooked on Flatt & Scruggs; their Live at Carnegie Hall album really hooked me on bluegrass. Leigh came along for the ride, and we're still doing it, 25 or 28 years later!
AN: How old were you when you two began singing together in public?
EG: We started taking lessons when I was 12 and he was 11. We didn't start singing until a few years later. We started playing in church: we were learning hymns on our instruments and we'd do instrumental versions of the hymns. People were very nice—they put up with it and seemed to like it—and our minister finally said "People like words. Words are important." So we started singing. It was just a terrifying experience, singing in front of people during those early years. But people were so nice, and [that] encouraged us, and we gradually gained confidence.
AN: What's the songwriting process like for you?
EG: What works best for me is getting up early in the morning, putting on some coffee, and writing. But that doesn't necessarily fit into my lifestyle right now. I'm not putting this type of writing down, but I just can't seem to get into [the routine of] "I'm going to write a song today." What usually happens is I'll get an idea, jot it down, and get back to it later…or I won't (laughs). Maybe I should hunt it down more than I do.
For the last couple years, Leigh and I have done some co-writing, and I respect the process. It's not easy. It takes talent to say "We're going to get together and write a song today." We did a couple of co-writes on our new record, one with Tim O'Brien and one with Jon Weisberger, and they both turned out well. I'm not afraid to try that, but most of my songs [get written] when I get an idea and work on it when I can.
AN: "Want Vs. Need" is one of the record's best songs. How did you and Leigh end up writing with Tim O'Brien?
EG: We approached him. We had wanted to approach him years earlier—he's such a big hero of ours. We were a little in awe. Finally, a mutual friend said "Email [Tim]; he'll get back to you." And within fifteen minutes, he emailed us back and said "Sure, I'd love to write with you guys." He was just so good; he ended up having so many good ideas and threw out a lot of things that I would have kept. You can't help but improve by being around people like that.
AN: On your last couple records, I've really enjoyed your take on several Joe Newberry songs. When it comes to selecting material, what do you look for in a song?
EG: I like a melody that's catchy and I like good, honest songs. Joe is one of my favorite writers; one of the best things that's happened to us in the last few years is meeting Joe Newberry. His songs sound new and old at the same time. When we first met him, we were jamming together and he was singing some great songs that I thought were something I'd never heard by the Carter Family or something. I thought they were 100 years old, but they were his songs. The older Leigh and I get, the more we seem to be getting into an old-timey frame of mind. Joe comes from the old-time world, and his songs seem to fit with what we're trying to do.
AN: I miss having a Tom Petty cover on Help My Brother like the last two Gibson records. What happened there?
EG: You missed them?! (Laughs) Honestly, Leigh and I love Tom Petty so much, but I don't want to get into the rut of feeling like we need to have an obligatory rock cover. I think Tom Petty is such a great artist and a great writer; you'll probably hear another Tom Petty song somewhere down the line, but I don't want to get too predictable.
AN: What would be your favorite Tom Petty song if you had to choose one to cover?
EG: I love "Wildflowers." I love that whole album, actually. I'll probably cut that one with my sister; she's a really good singer and we're trying to get her to do an album. I made her learn that song (laughs). I couldn't tell you my favorite Tom Petty song; he's one of my favorites, right up there with Merle Haggard, Ricky Skaggs, and Emmylou Harris.
AN: You guys got to sing with Ricky on "Singing As We Rise," which was fantastic.
EG: Ricky's as good as it gets. We've worked with him before: we actually made a country record with him on his label, but it never came out. We got that Joe Newberry song and I could just hear Ricky Skaggs doing it, so I said "Let's give him a call. The worst he can say is 'No.'" And he said "Yes." It's a feather in our cap to have Ricky sing with us; we're real thankful that he did that.
Claire Lynch is another hero. We've loved her voice forever, we asked if she'd sing on our record, and she said she would. We'd forgotten about that song "Talk to Me;" Leigh wrote it a decade ago, and a friend of mine had a demo of it. He gave it to me one day, and I put it in the van's CD player; we were all like, "Wow, where did this come from?" And Leigh said "When did I write that? I guess I wrote that." We thought that would be a good one to have Claire on. But she could sing the phone book and I'd listen.
AN: The Gibson Brothers and Claire Lynch happen to be co-headlining the DCBluegrass Festival this weekend. Any chance you guys will sing together there?
EG: Maybe. We haven't crossed paths since recording ["Talk to Me"], and I haven't asked Claire yet. I would like to get the chance to run through the song before we'd do it onstage. She mentioned one time that we should work up some songs together because we're on the same bill. We get along together really well. Whenever we're at the same festival we'll stay up late and sing with her.
AN:  DC has such a rich bluegrass history. Is there a group or artist from the area that has especially influenced you?
EG: There are a lot, but the two that stand out most for me are the Johnson Mountain Boys and the Seldom Scene. I had a chance to guest DJ on North Country Public Radio the other day with my friend Barb Heller; she turned it over to me and I played a couple Johnson Mountain Boys songs; I could have played them all day and been happy. I told someone the other day that nothing in rock 'n' roll has ever rocked any harder than the Johnson Mountain Boys did (laughs). We loved the Seldom Scene growing up; Leigh and I had a lot of their records. The harmonies and their song choices—they were just so cool and different from everybody else.
We're honored to be playing in that area. The first few times we came to the DCarea, I couldn't get those things out of my head. Knowing the history of the area, I was a little intimidated. Now I just try to play; we'll be whoever we are and not worry about it, but it was intimidating at first.
AN: If someone's new to bluegrass music or to the Gibsons, what's in store for them if they check out your set on Saturday?
EG: I think bluegrass is best listened to live. You can get the flavor of it by listening to records, but there's something about bluegrass live that is so exciting, at least it is for me. There's nothing on that stage that's hidden by any kind of effects. If you can play it under a tree, you can play it on that stage. It's simple music, but…the excitement of live bluegrass is hard to beat.
AN: Looking ahead, what's next for the Gibson Brothers?
EG: We have a busy touring schedule ahead of us. The album has been getting good reviews and a lot of airplay, and that translates into work. We're always happy about that; we need to work. We're going to be playing all over the country, and in June we'll be going to the Yukon Territory to play. We'll go to Vancouver Island, then off to California. There's a lot of work on the horizon, and hopefully a lot more writing and a lot of new songs.
I'm really excited about our band. I've never had a band this strong. We've had the same lineup together for three years. Four of us have been together for seven years, and three of us have been together for eighteen years. I'm excited to step on stage every single night with these guys. It feels like we're locked in; we've been doing a lot of playing and there's nothing like a lot of playing to lock you in.
AN: And nothing against [the band's previous mandolin player] Rick Hayes, because he's great, but [new mandolin player] Joe Walsh is a wonderful addition. He's really added a lot of punch to the band's sound.
EG: We've had a lot of great guys come through the band through the years, and I couldn't be happier with Joe's contribution. I've never seen a guy who can find a melody as quickly as that guy can: he hears it and it's automatically coming out of his fingers. He'll try a song and it'll sound like he's been playing it for years. All the guys are very team-oriented; they all serve the song. Mike Barber is so solid on the bass without getting in the way of the vocal. He's our rock. Clayton Campbell is a fiery fiddler who's sensitive when he needs to be as well. I hope I'm not coming across as bragging. I'm not bragging about me; I'm bragging about these guys in the band. And I always love singing with my brother. He's as good as it gets. I'm excited to play every night, and especially looking forward to Saturday's DCBU Festival. It should be a lot of fun.