An Exclusive One-on-One with Michael Glabicki of Rusted Root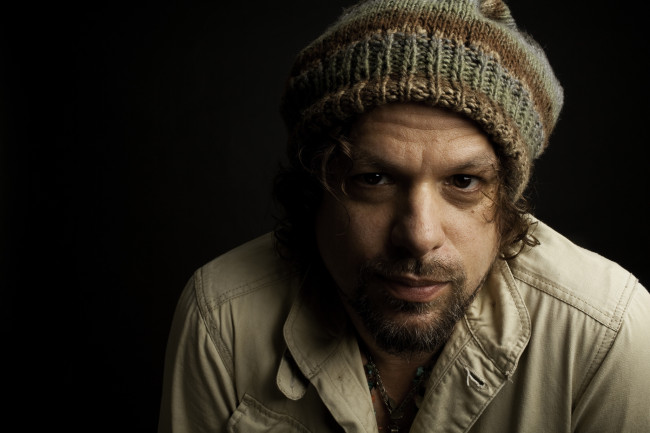 Rusted Root is a band that arrived at its name simply out of necessity. The group was preparing to take the stage as an opening act in front of 800 people when it realized it needed to be called something.
"So, we just sat down and wrote a few things real quick and that's how it happened," recalls Michael Glabicki, lead vocalist, guitarist and songwriter.
You could say that Rusted Root isn't overly concerned with labels. Boasting a mix of Latin inspired rhythms coupled with tribal grooves and rocking bluegrass, the band's sound is hard to define and hard to describe. Think of Jerry Garcia going to a rodeo and meeting Bill Monroe there…and then they eat mushrooms together.
Now you're on the right path to understanding the music this Pittsburgh based septet has been turning out since 1988.
The story of Rusted Root began in the 80s, with a rebellious high school student, the backdrop of working class city and a trip to Nicaragua.
"In our high school, we weren't allowed to do anything political," remembers Glabicki. "You would actually get into trouble if you passed out flyers or anything. There was some rule or law against it, and you'd get expelled. So, it was all fun and rebellious to start this [Youth Cry] political group."
Glabicki began networking with other high schools, soliciting college professors to conduct events and educational seminars in which they would teach about the environment, nuclear disarmament, El Salvador, Nicaragua and world events of the day. "I even started going to Catholic schools, and I'd have to buy the outfit and put on a tie and go in there and act like I went to that school to encourage participation in the events," he says.
And then, in 1987, he went to San Ysidro—a small village in Nicaragua—as a representative of Youth Cry and as part of a "sister city" project that was happening in Pittsburgh at the time.
Nicaragua, in 1987, was a war drenched country drowning in the seemingly endless conflict between the Sandinistas and the Contras, enveloped in poverty and crippled by corruption and economic depravity. It was a trip that would forever impact Glabicki and change the way he looked at the world. "I wanted to do a slideshow, interview people, take pictures and stuff about the misinformation that was going on in regards to the Contra War," he recalls.
"But, it didn't work. It was pretty devastating, super intense, and I got really depressed after that."
Glabicki then tried his hand at college, but dropped out after his first semester to pursue music. He realized that Nicaragua—the spirit of the place—was still with him, in his heart and his soul. It wasn't so much the suffering or cruelty he had witnessed that stuck with him, but the life, the energy and the vibrancy of the Nicaraguan people.
"Nicaragua was very inspiring to me. I wanted to replicate what was going on down there. Art and music and poetry everywhere on every street corner. And I think we did in our own way," he says.
And the 'we' he refers to, are the roots of the rust: Liz Berlin, the Celtic sounding songstress and only female in the group, along with Patrick Norman, Preach Freedom, Jason Miller, Colter Harper and Dirk Miller, all of whom provide the backing vocals, guitar and varying levels of percussion which account for the alchemy and unique harmony of Rusted Root.
Glabicki's musical influences may be surprising: The Beach Boys, Cat Stevens, Rolling Stones, The Beatles, and heavy metal—including the voice of the very heavy late metal icon Ronny James Dio.
"I think all that is in our music," he says. "The goal whenever I write music is to feel everything come up from the earth through my body. When I feel that, I know that I'm striking some energetic path in the earth that needs to happen right then. I guess I would call it earthy and real music, which means that people just don't understand it and I'm fine with that," he says, laughingly. "When I first started writing music I was just trying to figure it out. I decided that I was going to write stuff that didn't remind me of anything else. I would keep ideas until I found one that felt completely unique to me. I didn't listen to anything so I could keep a clear palette. Pittsburgh, where we're from, is a working town. So it's all about working. And we just kept going until we came up with something."
For the past 20 years, Rusted Root has been coming up with lots of 'somethings'. The band's first indie record, Cruel Sun, was recorded in 1992 but unreleased until 10 years later. In 1994, the band's first major label album, When I Woke, made inroads with college radio, breaking the Top 40. The group's work began to appear in movie soundtracks (Twister, Home for The Holidays) and television (Allie McBeal, Party of Five, Homicide). All of this was followed by two more studio albums, Remember and Rusted Root.
Rusted Root has sold over 3 million albums worldwide and toured with Toad the Wet Sprocket, Grateful Dead, Santana, Dave Matthews Band and perhaps most notably, took the supporting role in the highly coveted Jimmy Page/Robert Plant Reunion Tour.
Their videos are filled with costumes, characters and mythology.
"Yeah that's some weird stuff there", Glabicki says. He explains that early on, "We were sort of naïve and innocent in what we were doing, but we had enough energy and enthusiasm that we could go into a room and come out a month later with one song and be really excited about it. It was all just trial and error. So, when we did our videos, people would say you should try this director and we'd say ok let's try it. So we got this guy from Peru who couldn't speak any English and he drew some sketches that were bizarre and we thought, OK, let's try it. And that's kinda how our videos happened."
But in 2002, with the release of Welcome to My Party, their loyal fans became disillusioned. The band's departure into the realm of pop made Root-Heads wonder if Rusted Root had sold out.
"We tried to get pop," says Glabicki. "But it didn't work. A song is an organism that has a history and has different meanings to many different people. Those people attach themselves to this organism and because of that… it's a ritual, a way to jointly go places."
That being said, Rusted Root has returned to its, well, roots. The group's latest record, Stereo Rodeo is exactly what Root-Heads were craving.
"Our fans have been saying it's our best record yet," says Glabicki. "And I'm just really excited about it."
Glabicki says that the one political track on the album, "Bad Son", is "about George Bush's accomplishments, talking about his childhood insecurities that you can see were prevalent in how he ran the country."
To say the music is the same as it has been for the past 20 years would be grossly incorrect. Rusted Root has evolved.
"I think there was more of a global community theme before, and that theme is still the point in which we work from. But, I think the music today has become more introspective. Trying to relate more to the individual state of mind and consciousness right now. The music is more intimate," he says.
Over the past few years, each of the band's members has gone on to complete their own solo projects. Which brings the question: Does Rusted Root plan to stay together?
"Well I try to run away from the band about every day, but we always end up having a show that I want to play. So I end up running back to the venue and playing. I think we're always gonna be together. That's sort of the plan or not the plan," he says. "Being in a band is like having a six way marriage."
But for Root-Heads everywhere, it is a marriage to which they are willing to commit for the long haul.