Album Review: Zac Brown Band – You Get What You Give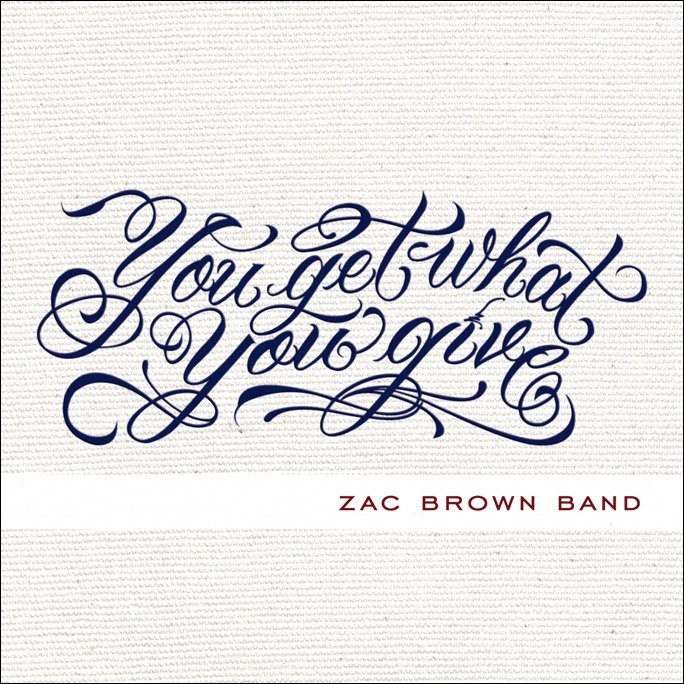 The Zac Brown Band has had an extraordinary couple of years.
After spending much of the previous decade touring the southeast in an airport shuttle bus with a generator welded to it, barely making enough money to cover the costs of fuel, the band's perseverance and do-it-yourself work ethic finally paid off in 2008, beginning with its signing to Atlantic Records and the breakout success of "Chicken Fried."
Since then, the group's mainstream debut, The Foundation, has been certified Double Platinum, charting three more #1 hits and garnering the band numerous accolades (including the prestigious "Best New Artist" Grammy).
Despite the massive success of The Foundation and the praise the now-sextet has received for its cross-genre appeal (and its burgeoning reputation as a top-tier performance band), the group has earned criticism in many of the same areas where it has earned acclaim. Numerous reviewers at the time of the record's release dismissed the band's musical diversity as directionless, or worse, as some sort of blatant "something for everyone" focus-group marketing approach. Parrothead anthems? Check. Radio-friendly list songs? Check. A couple of heartfelt ballads? Check. Splashes of bluegrass and traditional country throwbacks? Check.
Add a pinch of novelty just for good measure and voilà—you've got yourself a final product that is impossible to fail.
Though the band is as brazen as ever with regard to its widely diverse fanbase, it does appear the criticism pinched a nerve during the recording of You Get What You Give, a stronger and more consistent effort with a hearty handful of ambitious moments that lead to an album that's more thematically and atmospherically circumspect than its predecessor.
Nowhere on the record is this more apparent than on album starter "Let It Go." Opening with a fresh bout of percussion, the track wastes no time unfurling into full-band ensemble glory, driven by Jimmy De Martini's fiddle whimsicality and jocund acoustic rhythms. Finally, Brown emerges, in as fine a vocal shape as ever, offering his best salutation to Gregg Allman. There are even group harmonies highlighted during the euphonic bridge that wouldn't feel out of place on Paul Simon's "Graceland."
In terms of musical craftsmanship, it's about as perfect and masterfully executed as album openers come. And yet, as unabashedly effective as "Let It Go" is, lyrically, it falls victim to inspirational library poster platitudes such as "You keep your heart above your head and you eyes wide open, so this world can't find a way to leave you cold."
The second track, "Knee Deep," suffers the same dilemma. It manifests an exquisite production that brandishes Clay Cook's mandolin-playing finesse and generous doses of organ from Coy Bowles, as well as a playful vocal styling from Brown and featured singer Jimmy Buffett. Yet, it can't help but sound like a disappointment in comparison to both the superiorly written "Toes" and an inundating Buffett discography that's replete with far more substantial, intelligent lyrics imbued with wry social commentary.
Lyrics like "I'm knee deep in the water somewhere, got the blue sky breeze blowin' wind through my hair," sound like they were pulled straight out of Frommer's Guide to Cabo San Lucas.
Elsewhere, You Get What You Give stretches itself as far towards the outskirts of musical genre as possible, while constantly trying to please everyone and leaning obsessively on subject matter that has proven a winning hit-making formula. Much like the album's title suggests, the album is heavy on philosophical bumper-sticker posturing, and presents this in as many shades as it can muster.
There are, however, a handful of moments where the band transcends this frustrating furrow, much as it has already transcend genre. The album's lead single, "As She's Walking Away," is a refreshing slice of throwback '90s neotraditionalist country that features one of modern country music's elder statesmen, Alan Jackson. The vocal interplay between Brown and Jackson (both protégées of producer Keith Stegall) is as authentic as collaborations come, and the arrangement is stellar—from De Martini's ferocious yet felicitudous fiddle to the organic group harmonies.
The crowning jewel of the album, however, is "Colder Weather," an outstanding melancholic ballad (co-written with fellow Georgian and up-and-coming artist Levi Lowery) that boasts a brand of lyricism resembling Van Morrison's body of work, Adam Duritz's (of Counting Crows fame) introspective narration and Marc Cohn's cinematic storytelling quality.
The band also stretches itself out to the fullest extent on the ten-minute epic "Who Knows." As directionless as this digression into Phish territory may be, it's a welcome break from the four-minute confides of contemporary radio expectations, and offers the band a vital opportunity to showcase the fullest promise of its exemplary live show in a studio setting.
Beyond that, there are plenty of beguiling moments, from Brown's convincing ode to his trusty Martin guitar on "Martin" to the album's closing track "Make This Day," the latter of which finds the sextet taking a crack at Brian Setzer Orchestra-esque ebullience.
When you really know where to look, like an urban fruit tree gleaner hunting high and low for edible fruit to forage, You Get What You Give has an abundance of artistic high points and signs of broader promise to tout.
And the fact that the band's success and rise to stardom is of a locally-sourced, organic, made-from-scratch mold is, in itself, admirable, and distinguishes it among its countless anonymous, partially-hydrogenated peers.
Still, You Get What You Give is a frustratingly rich and brilliantly serviceable record in that, overall, the group only goes halfway in practicing what it preaches with regard to its titular mantra. In spite of its musical dexterity, open-mindedness and willingness to break genre boundaries, it's as though the Zac Brown Band remains willing to settle for mediocre storytelling—which may assure greater commercial yields, but does little to entrench it as an artistic behemoth.