Album Review: Steve Earle – I'll Never Get Out Of This World Alive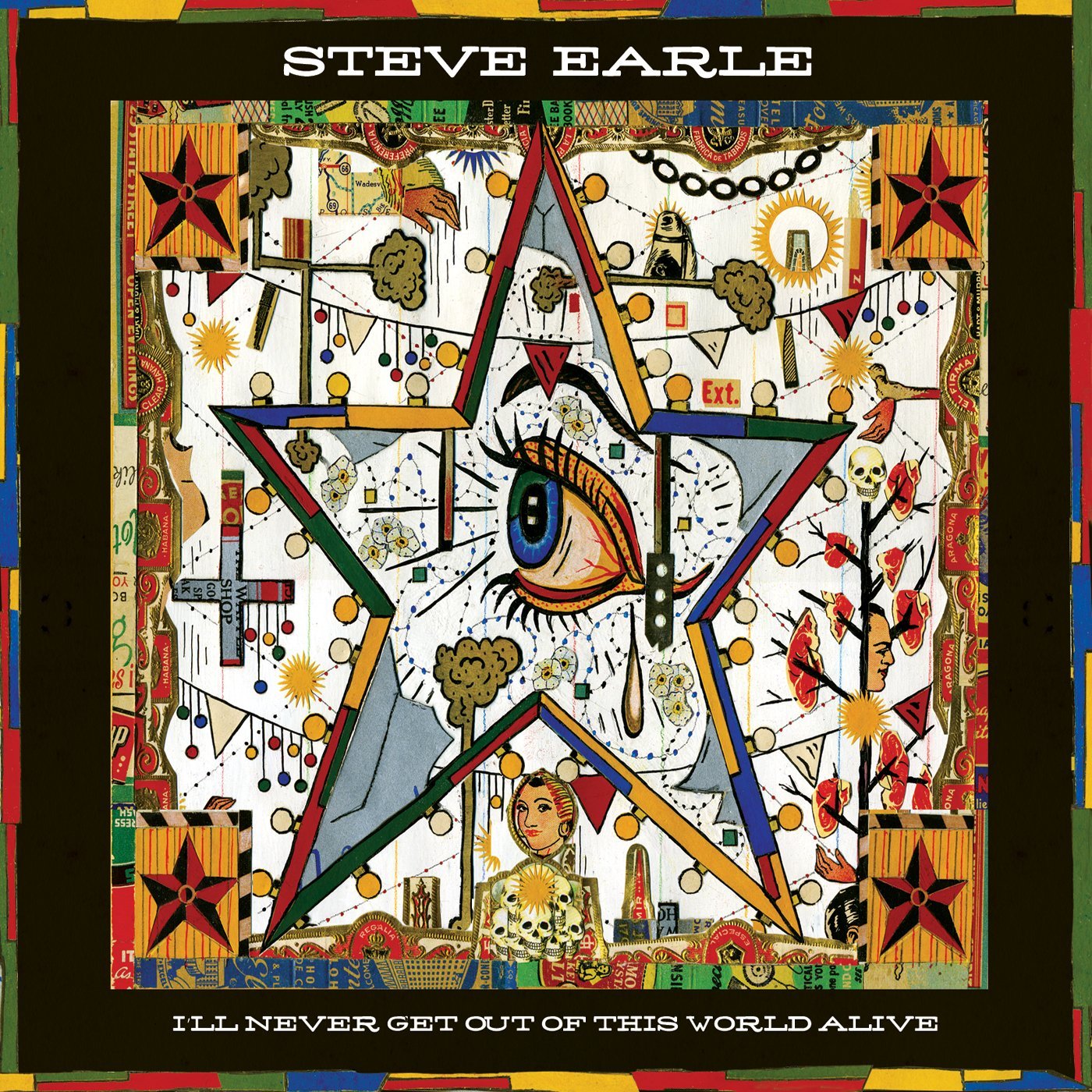 Steve Earle is nothing if not adaptable. In the 1980s, he harnessed his youthful defiance to craft a rough-and-tumble sound that was sturdy enough that even mainstream country perked up its ears upon hearing Guitar Town. He was a rebel when Nashville needed innovation.
In the 1990s, after a drug binge and a prison stint, Earle refashioned himself as an alt-country guru, projecting an unpretentious wisdom on Transcendental Blues, as if hard time was nothing more than a means to an end. He was an elder statesmen when No Depression needed legitimacy.
In the 2000s, however, with Bush entrenched in the White House and the U.S. ensnared in two dubious wars in the Middle East, Earle tried to be the protest singer the left needed so badly, yet Jerusalem and The Revolution Starts… (wait for it) … Now! both sounded like obligatory dissent from an artist duty-bound to sing about the times. Of course, attempting to see the world from the eyes of an American Taliban was commensurate with treason for many listeners, and Earle's dissent, like that of so many blue-state musicians in the last decade, came across as preaching to the converted.
Since then, Earle has mellowed. He's entered the lover phase of his career, writing mash notes to New York (Washington Square Serenade) and Townes Van Zandt (the all-covers Townes) with the verve of someone finally settling into being what he wants to be. Lately, he sounds inspired by his wife, Allison Moorer; together they're the Eric and Tami Taylor of roots rock, exhibiting a hardy chemistry on last year's Loretta Lynn tribute and on their tour dates together. She makes him sound more human, fragile and often frustrated with the world, but still strong and steely.
Naturally, Earle includes a love song or two on his latest album, I'll Never Get Out of This World Alive, but strangely, he's more dumbstruck than lovestruck. Although sweet and sincere, "Every Part of Me" relies almost exclusively on predictable imagery and threadbare turns of phrase, which make it sounds like he's reading the lyrics from a Hallmark card. "It's all I can do to mark where you end and where I start," he sings moonily. And his casual reference to his romantic past as a "trail of tears" seems like an insensitive gaffe just shy of Palin-esque.
Compare that song to some of his earlier love songs, like "Valentine's Day" and "Goodbye," and it's clear something has been lost over the years. Where Earle once wrote achingly specific songs in which each line sounded vital and immediate, on I'll Never Get Out of This World Alive he writes about himself and his world only in the most general and sometimes even mythic terms. It's difficult to discern whether that's due to his newfound contentment or to some nod to a literary voice (the album will be followed by a historical novel with the same title), but these songs are so much less compelling for being so cursory.
The music doesn't help. He's assembled what seems to be a fine band (including Moorer, former Nickel Creek fiddler Sara Watkins, and pedal steel virtuoso Greg Leisz), but under T-Bone Burnett's hand, I'll Never… sounds like a vague approximation of his once-gritty country-rock sound. The venerated producer, who is most famous for the O Brother Where Art Thou? and Crazy Heartsoundtracks, gives Earle a sheen of respectable, tasteful Americana. But who goes to Earle for polite? The dawdling pace of opener "Waitin' for the Sky" undermines both the worry and the eventual catharsis of Earle's lyrics, which come across like wishful thinking. "Lonely Are the Free" is about as gratingly self-serious as that title suggests, and "Meet Me in the Alleyway" tries to conjure the gutter authority of "CCKMP" (off '96's I Feel Alright) or his version of The Wire theme, but the vocal distortions sound almost comical in a song about the health care industry.
"Didn't know that I was gonna live this long," Earle sings on "Waitin' for the Sky." "Now I'm sittin' on top of the world." Especially given his long, hard history, those lines should make for a big moment on this album—a lusty declaration of survival and a heraldic entry into a new decade that many never thought he'd live to see. Yet, neither Earle nor Burnett has the energy to sell those lyrics or convey any sense of relief or triumph. What should be a cry of victory sounds like just another tired moment on a strangely inert album.