Sierra Hull: At The Forefront of Bluegrass Music's Next Generation – An Interview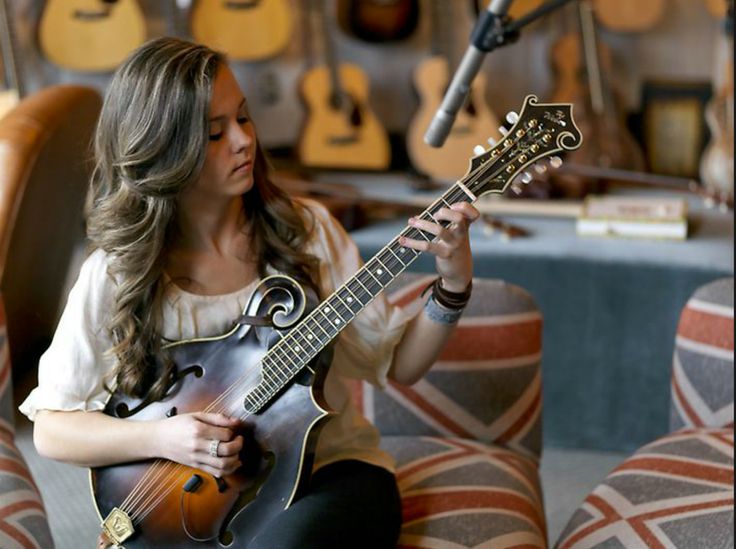 Sierra Hull is far too cheerful for someone who's been up since 5 a.m.
It's just after noon at the Washington Hilton, where the 19-year old bluegrass musician and Alison Krauss sung a pair of hymns in front of a crowd of approximately 3,000 at the National Prayer Breakfast, held in the nation's capital on a frigid February day. Said performance required an early morning sound check, which doesn't seem so bad until one considers the previous evening's rehearsal, which stretched until after midnight.
But it's all old hat for Hull, a consummate professional who, at the age of 11, was invited by Krauss to sing at the Grand Ole Opry. Since then, Krauss—herself a child prodigy who picked up the fiddle at age five and has since become the most awarded female musician in Grammy history—has served as a mentor to the young musician. "She is the biggest hero of mine; I've always really admired and loved her music, so it's great to get to play with her any time I can," explains Hull. With her angelic voice and superb musicianship, it's unsurprising that Hull has been garnering comparisons to Krauss for years.
Daybreak, Hull's second album for roots label Rounder Records, is a collection of contemporary bluegrass that is stunning in its grace and maturity, and sure to appeal to longtime bluegrass fans as well as those who are new to the genre. Rooted in bluegrass tradition yet peppered with pop and swing influences, it's an album that is the culmination of three exceptionally eventful years in Hull's life, where she graduated high school, began college, and was nominated for the International Bluegrass Music Association's "Emerging Artist of the Year Award." Though she is mature for her age, that's still a lot of living for someone who isn't old enough to rent a van when she goes on tour.
Hull first picked up the mandolin at age seven after accompanying her father—who played guitar when his children sang in church and picked the banjo and mandolin as well—to several bluegrass festivals. She hit the ground running with the instrument, quickly learned her first tunes, and never looked back: "I just feel like I've always known it's what I want to do. I haven't ever really questioned it." It's no surprise, then, that Rounder signed her at age 13; she recorded her first album for them at the age of 15 (Hull self-released Angel Mountain in 2002). Secrets was released a year later, in 2008, while Hull was still attending public high school in her hometown of Byrdstown, Tennessee, something that prevented her from extensive touring behind the album.
Secrets, produced by accomplished banjo player and member of Alison Krauss's Union Station Ron Block, showcased a musician who was mature beyond her years as she played intricate, lightning-quick mandolin solos and sang in a clear soprano. The baker's dozen of tracks on Secrets included only three penned by Hull, one of which was an instrumental. However, the introspective lyrics of "Pretend" and "Two Winding Rails" were clearly the work of a budding songwriting talent.
After graduating high school in 2009, Hull was admitted to Boston's Berklee College of Music, a school which counts Bruce Hornsby, Gillian Welch, and Casey Driessen among its alums; she was the first bluegrass musician to receive one of the school's prestigious Presidential Scholarships.
Hull's time at Berklee, though it has forced her to postpone her dream of fulltime touring, has exposed her to a number of different types of music. Furthermore, it has provided her with an environment in which she's surrounded by talented artists her own age, people who are all in that "big dreams stage," as she calls it. Says Hull, "For the first time I feel like I'm not really sure what type of music I want to play anymore. I mean, I want to play bluegrass—I love bluegrass—but [Berklee] is shaping who I am. It's made me go, 'Oh, I love a lot of things.'…The semester before this one I was part of a Berklee World Strings Orchestra; I've played in a gypsy jazz ensemble and an R&B type ensemble, which is hilarious with mandolin. Being part of something like that, being able to do some different things with high-caliber musicians, gets me out of my comfort zone a little bit."
With the influence of her Berklee classes and a wide variety of personal tastes that ranges from bluegrass legends the Stanley Brothers to piano pop songstress Sara Bareilles, it's no surprise that Hull is branching out a bit with her own music on her new album. Daybreak is a fresh-sounding collection of bluegrass tempered with delicately sung pop music. Though the critical success of Secrets could have easily weighed on the young artist's shoulders, Hull wasn't feeling much pressure about delivering a successful follow up album; instead, she was excited to get back in to the studio after a three-year hiatus.
The original plan for Daybreak, which was recorded in March of 2010, was to continue working with Ron Block, because "we had so much fun working on the last [record]," says Hull. However, the pair's schedules didn't mesh this time around. Enter producer and Union Station bassist, Barry Bales, via social media (When it comes to Hull's choices in producers, she laughs, "It just looks like I'm going through Union Station!"). "I had posted a [Facebook] comment that said something like, 'Oh, I really want to get started on a new record soon.' Barry sent me a message basically saying that if I was looking for someone to help produce that he'd love to be able to work with me," Hull explains. "Barry had just finished working on a project with [mandolin player] Adam Steffey and they did a great job with that so I knew we'd have a great sounding record, which is so much of what a producer contributes—just having that extra ear and somebody to help you make the record sound good and make all the material come together."
Bales is the one who suggested that Daybreak include several of Hull's own songs, which is something that she "didn't really plan" whilst searching for songs she'd like to record. Seven of the album's 12 tracks are penned by Hull, which is over twice the number of original songs found on Secrets.
Though her skill as a writer is mature for her age and has certainly developed since Secrets, the sense of confidence she's found in her work is relatively new. "It's taken me a while to really feel like I can say 'Okay, I guess I'm a songwriter,'" says Hull. "I feel like it's such a strong title to live up to. It's always a little scary to think about playing your songs for somebody…to have Barry like the songs and be supportive of the idea of doing them was great. I'm really glad we did. [I] have a record of songs that I feel like are truly me and truly my own stuff."
Her own stuff includes "Best Buy," her first Western Swing song. Inspiration hit after a wait in the parking lot of the big box electronics store: "I got out my laptop, started humming a melody, and tried to type some lyrics… I almost felt like it was something I wouldn't end up recording. I was just goofing off and writing it for fun, but it ended up being one of my favorite songs on the record." Despite its playful rhythm, there's nothing lighthearted about the subject matter as Hull gives a man his walking papers, singing "You can take your stuff/I've had enough/I'll even hold the door/'Cause I'm not going to buy it anymore." Though she hadn't planned to write a swing song, Hull, who is backed on this track by Bales and outstanding bluegrass musicians Stuart Duncan and Bryan Sutton, feels as though it is a genre she'd like to explore further in the future, noting "there's something about the whole groove of playing swingy tunes that's really fun from an instrumental and vocal perspective."
Other songs on the album adhere more closely to her bluegrass influences, such as the instrumental "Chasin' Skies," the nucleus of which is Hull's fleet-fingered mandolin picking. "Easy Come, Easy Go," the album's leadoff track and first single, is a Krauss-esque work of delicate contemporary bluegrass. Hull makes her coming-of-age quite for the listener as she sings, "Ghost in my closet and under my bed/Things that a child lets go on in her head/But I'm not a child anymore."
The quality and skill inherent in the subsequent elevn songs make that statement incredibly obvious. Hull, along with contemporaries Sarah Jarosz and bands like the Infamous Stringdusters, is at the forefront of bluegrass music's newest generation, one that's exploring the boundaries of the genre. About the state of bluegrass, Hull says "I feel like it's becoming very contemporary, but it's so natural because we live in a very contemporary world: everything you can think of, we've got access to. I think [the genre is] in a good place. I look around at my fellow peers and everybody's moving forward and trying to find their own thing and do something different. It's on a very creative whim right now."
Though she's only 19-years-old, Hull is poised at the beginning of what is shaping up to be a long, successful career in bluegrass music. The kid who carefully studied instructional videotapes has recorded an instructional DVD of her own that teaches aspiring mandolin pickers the songs of Secrets. The International Bluegrass Music Association recognized Hull's talent, nominating her for five awards in the past three years, including "Mandolin Player of the Year."
With her first music video under her belt, her time at Berklee coming to a close—she graduates from the school's two-year program in May—and nascent plans for a future album with her band, Highway 111, Hull is ready to fling herself headfirst into the life of a fulltime touring musician: "I'm excited just to get out there and play. That's what I love more than anything."