Interview with Vince DiFiore of Cake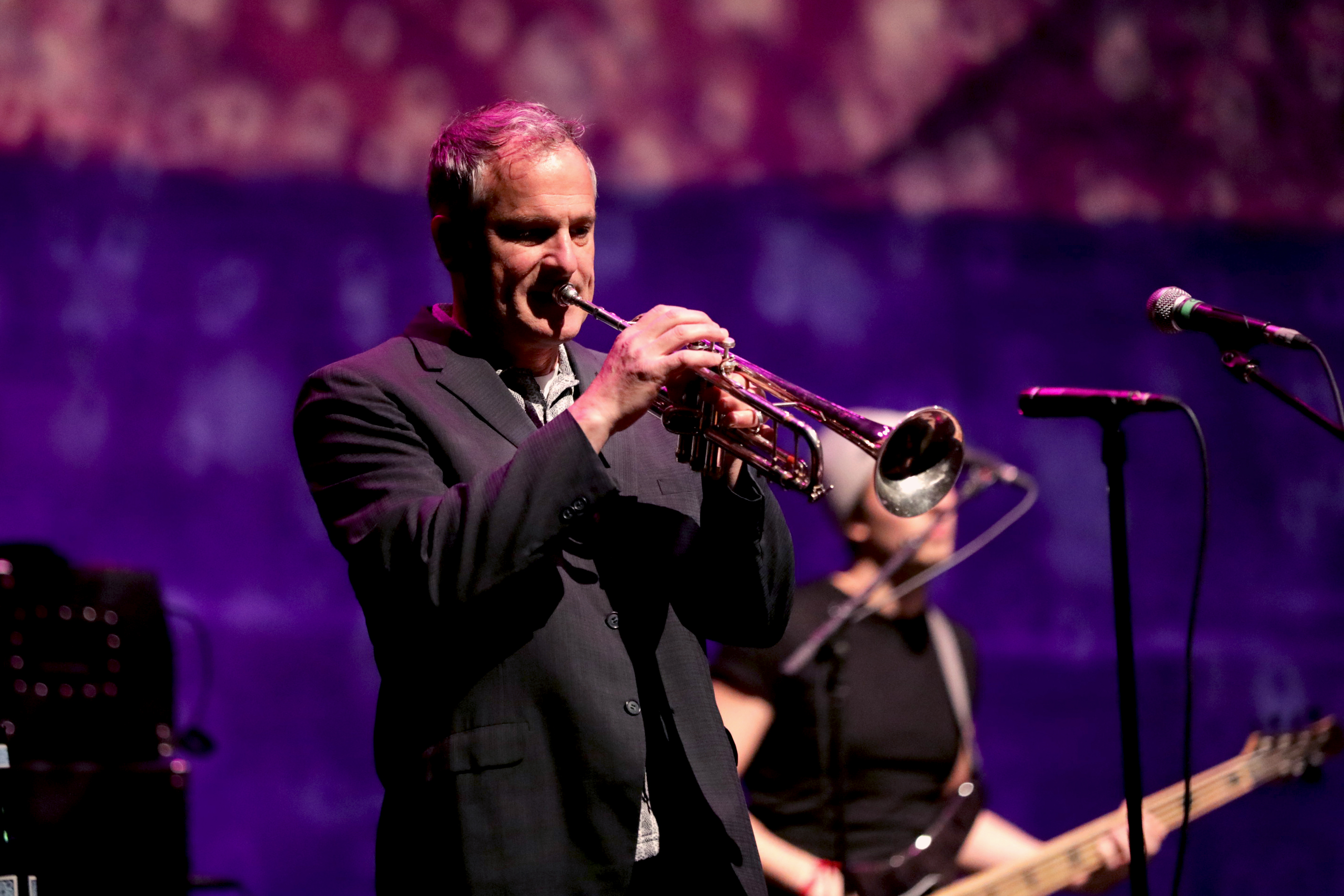 It would be an understatement to say that 2011 is going pretty well for Cake: the sardonic rock band's newest album, Showroom of Compassion, debuted at #1 on the Billboard charts, and they're about to embark on a string of sold out shows. We got the chance to chat with trumpet/keys player Vince DiFiore about Showroom, the band's solar-powered studio, and where the band's going next.
JULI THANKI: You've been with Cake since the beginning. How has Cake evolved over the past 20 years?
VINCE DIFIORE: The electric guitar was bound to creep in and become stronger; it was so restrained on the first album and the second album, too. There was a very deliberate restraint that didn't want to be restrained, because it's an electric guitar. Given time, that sonic expression of the electric guitar is going to make its presence felt to a greater degree. I think it's the nature of the beast and probably something that had to happen.
I became the default keyboard player in the band starting with "The Distance" synthesizer line. When it dawned on me and everyone else in the band that I was playing keys, we started adding a lot of keyboards in the studio because we had somebody to play them. It was like we added a keyboard player. The first album has instrumental organ parts that we didn't really play when we played those songs live.
The third part of that answer would be the background vocals. We have always had harmony vocals but I think we really stepped it up as other band members have been in the band longer. Once you find your voice in the band, maybe even through your instrument or how you identify yourself in the band, then the vocals come. There's something singing that's very personal, and you have to mean it. All five of us are singing onstage now. Victor [Damiani], our old bassist, never sang, and Gabriel [Nelson, the current bass player] sings. That's been a huge difference.
THANKI: Aside from the B-side comp, this is your first record since Pressure Chief in 2004. Why was there such a long gap in between records?
DIFIORE: We toured on Pressure Chief for two and a half to three years, going all over the world touring, then resting for a while. It became a lot of business details with record labels and stuff. We made the decision to leave Columbia Records and started Upbeat Records and put out B-Sides and Rarities. We did a little bit more touring for that. Then we took about three years to make this last record. We did gigs here and there to keep being a band that plays and has a connection with an audience. We communicated with each other musically and through the website to get us all on the same page and have a similar worldview. We weren't on a deadline; there wasn't a record company saying "Your three years have passed. Where's your next album?" It was up to us. We knew that if we were putting out an album we want it to be an album that we can really stand behind. So we took the time to do that.
THANKI: What else do you dig about having your own label? Is it mostly the freedom?
DIFIORE: It's a lot more freedom. There's a feeling of helplessness in anything if you don't have control over the situation. It's probably why couples fight so much and why there's antagonism in business relationships, because you want to determine the outcome of something and say how much of your life is going to be committed to something and hope that the commitment turns out to be some sort of self-fulfillment. When you're living like that and you don't have control, it makes you feel helpless. We're experiencing the opposite of that now, in terms of calling the shots. There's a lot more administration that needs to happen, but we have a very good manager and a very good distributor. Everybody put their best foot forward and had all the pistons firing at the same time.
THANKI: I heard you guys have a solar-powered recording studio. Tell me a little bit about the decision to go green in that aspect of the band's career.
DIFIORE: We figured how much energy we would need to rehearse and record and then put thirteen solar panels up. Lo and behold, we did the entire album with solar energy. I think it changed the way we felt about being in the studio. It was a really good move. It assuages some of the guilt of being on the road and consuming energy and traveling about and using hotels and all that. Everybody is an energy consumer if you want to participate in society; that's the way things seem to be running. That made us feel a little bit better about [the band's] carbon footprint.
THANKI: Cake plays DC fairly often. I don't know how much free time you have, but do you have a favorite thing about the city or a favorite part to visit?
DIFIORE: You know what's remarkable? The amount of space there is. You'd think it would be a crowded place like New York City or Boston or Philadelphia. Those places are roomy, but when you're out on the Mall, there's so much space around you. There's not much difference in the Mall when there's no one on it and a weekend in the summer when everybody's there. Things are still working out. I feel so safe at night. I love to go out on the Mall at night on a bike or walking; it's so open and peaceful out there.
THANKI: You've got a couple co-writing credits on Showroom. How involved do you get in that process?
DIFIORE: John wrote the words for those songs. He came in with the words and melody; I got credit because I came up with a lot of parts for the arrangements. He was nice enough to give me credit on there, and I think I deserved it (laughs). I did write a lot of the music around the melody. You want something that's interesting both melodically and rhythmically and that goes along with the song. A lot of the process is intuitive, just doing it, then stepping back and then doing it again until everything seems to work.
THANKI: Where do you see the band going from here?
DIFIORE: I liked how everybody worked together on the last album and how everybody felt confident about bringing what they liked about music into the band. That was really great. Nobody was shy about their contributions. We all played how we wanted to play, and there was a great chemistry working out. If we do that for the next record then no matter what we bring in, it'll be something good. It might not be different [stylistically]. It will be a different experience certainly, but the precedent that The Beatles and The Police set for changing their sound on every album is pretty freaky, you know?
I think our strength is writing songs within an album. The sound works out for us. It's guitar-bass-drums-trumpet-keys-vocals, and that's what we are. I don't think we're going to bring in any kind of robot to play synths or Xan's going to turn into a classical guitarist or we're going to start playing like U2. It's going to be the same effort if we are so lucky to get together and make more music.
THANKI: As a big Louvin Brothers fan, I was so glad to see you guys touring with Charlie Louvin a few years ago. Whose idea was it to bring him onto the tour?
DIFIORE: That was John's idea. I'm so glad that so many people were introduced to Charlie Louvin's music; that's a great thing. He was fun to be around. It was important for him to be funny. He always had some jokes. He was a very friendly guy. I actually visited him in his museum that he had near the Grand Ole Opry in Nashville. He just hung out there during the day; you could go in and see the Louvin Brothers' stuff and talk to him and get photos with him. He was really a good person to be around. The Louvin Brothers were the Everly Brothers' favorite band, which says a lot. They had those really sweet vocals and wrote incredible songs and harmonized really well together. It's a beautiful thing when brothers are singing like that.
THANKI: Were you a fan of their music before touring with Charlie?
DIFIORE: I knew of the Louvin Brothers from when we were on the road; we had mix tapes and mix CDs in the van and John loved "The Great Atomic Power," which I heard on the way to Portland once. I clearly remember going over the bridge over Lake Shasta and hearing that song. It's a good memory. There's a bunch of great Louvin Brothers songs, but there was about two or three that I knew before we toured with him. It was really special. What a great experience to have.