Interview with Frank Solivan of Dirty Kitchen
DC-area bluegrass musician Frank Solivan and his band Dirty Kitchen had a wildly successful 2010 with the release of their self-titled album. They've never actually had a CD release show, but better late than never: on March 7 (Solivan's birthday), they'll be playing one up in Rockville as part of IMT's weekly concert series. If you haven't been to one of the band's house concerts—which include a Solivan-made meal—now's a perfect time to see what all the fuss is about.
American Noise: How did you first get interested in bluegrass music?
Frank Solivan: My dad is the ninth of ten kids. His mother—my grandmother—was a mandolin and fiddle player. She knew how they all worked, guitar, banjo, and bass. Her name was Bonnie and she and her siblings were vaudeville tumblers, and they did some other stuff. She was an excellent mandolin player; not really fancy or anything, but she made every note count on the fiddle and mandolin. She died when I was in kindergarten but she passed on a love of music. There's pictures of family reunion that date back to when she was a little girl where they all had their instruments; she passed that love of music down to all of her ten kids—my aunts and uncles; one of my aunts is in the Western Swing Hall of Fame, actually. They all had kids who played music and had bands. We'd go to a reunion or to someone's house, we'd have a meal, and instruments would start flying out of their cases. I didn't know anything else. In high school I'd attend parties and go "This is weird. People are listening to loud, foolish music and making out and drinking. Where are all the instruments?" (laughs)
My mom sings and plays guitar. Her brother and dad play some guitar, too. There's music on her mother's side; she came from a big Italian family and there was a bunch of concert violinists and cellists. I don't know if it was genetics or environment, but there was definitely something that stuck.
AN: Were you always in the DC area, or did you grow up elsewhere?
FS: I grew up on a dairy farm in the central valley of California. My folks split when I was 13 and I went back and forth at that time. I was already playing music and doing fiddle contests then. I turned 18 and moved to Alaska to play some shows with Ginger Boatwright and Doug Dillard. Ginger married a bush pilot who was also this amazing explosives guru; he owned this company called Statewide Blasting and Perforating Service. He gave me a job working with air track drills and jackhammers and explosives. Explosives and bluegrass: a winning combination!
I heard about an audition for the Navy Band from some guys who were playing the Anchorage Folk Festival. The bluegrass unit, Country Current, is just an offshoot from their main country band. There was an electric guitar position there, so I practiced up and they gave me an audition tape to learn 25 or 30 songs. There were two rounds of auditions, and the next thing you know, I'm doing pushups in basic training.
The Navy Band is the premier band here in DC; there's fleet bands all around the world, but I was promoted right out of basic training to E-6 which is pretty much unheard of in any other field; they wanted to attract professional musicians and give them a professional wage. I got out in May of 2009 to start Frank Solivan & Dirty Kitchen. And it feels like we've been doing pretty well.
AN: Why did you leave the Navy Band?
FS: It wasn't fulfilling me. I was just playing music; I wasn't making music there. I needed to go make music and be creative and play with the people I wanted to play with. I wanted to have a choice in who I played music with.
AN: How'd you hook up with the guys who would become Dirty Kitchen?
FS: I'd been in the area since 2003 and there's a pretty good acoustic music community here. Shortly after I got here, I met Stefan Custodi, who's our bass player. We starting jamming and doing a couple gigs here and there. Right around the same time I met Mike Munford when he was playing Madame's Organ. The night I met him I was invited by my friend Bob Perilla to sit in on a few tunes, and when we played together , we were like two little kids at Christmas.
I recorded an album called Selfish Tears in 2006 and both Stefan and Mike are on that record, and that was basically the core of this whole idea. I thought it sounded really good and felt really good. I was in need of a guitar player and singer and made a few phone calls and a friend recommended Lincoln Meyers. He came and played with us and Stefan and I knew he was the one. Funny enough, Lincoln and I had met before; we were both invited onstage with the Infamous Stringdusters in Nashville to play some tunes around 2007. But I didn't put two and two together and realize that it was the same guy I had already met.
AN: This new record has done really well. Was that surprising for you guys at all?
FS: My plan was to make some really good music and we had a business plan to go out and try to land a record deal. None of them really wanted anything to do with us; I think it was just one of those points in time where everyone in the music industry is hurting and they didn't want to take a chance on someone they didn't know. We were a new band and none of us were super well-known. I said to myself, "I put two other records out, I know how it works, and I've learned a lot since the last one came out. I'm going to get some advice from some friends in the industry and put it out on my own label." And you know that saying "if you can't beat 'em, join 'em;" in jest I had my own saying, "if you can't join 'em, beat 'em!"
I really wanted to do as much as I could to get on the map, because I needed to make a living. This is my passion and what I'm good at. I've spent my life to get to this point and make a living doing it.
It's been out about six months and it's not selling too bad when we play a show, and people are buying it pretty steadily online. It's paid for itself and I'm happy with that. But I want to share it with other people not just because I want to make a living, but because I think bluegrass music is currently involving in such a way musically that may be faster than some people want to accept. There's two sides of that coin. The traditionalists say "Oh, you should play more traditional stuff." But Bill Monroe was an experimenter, and from the early days of singing with his brother Charlie to when he played with Flatt and Scruggs, it was a completely different sound in the span of what, ten years? There was so much more energy and drive. Then in the '50s, there was another jump. It's just incredible how it evolves. I feel like we're trying to make our own sound and you can hear all those influences in our playing, but there are some people who say "You need to play more traditional." Then there's people who say "I didn't realize I liked bluegrass until I heard you guys." I want to reach a really broad audience with our music to help the whole industry of bluegrass, which is fairly small in the big scheme of things. I want to help bluegrass reach a bigger audience, and I'm still learning how. It's a huge learning process; I think the Infamous Stringdusters and Crooked Still, and a couple other great bands are doing really well at that. I want to straddle the fence between traditional and progressive.
AN: I'm really digging the original tracks on the record. What's the songwriting process like for you?
FS: Sometimes I can just be laying in bed, have a melody go through my head, and all of a sudden I'm picking a tune on the mandolin. Or I'll sit down to write with my guitar and start messing around with a few chord changes; sometimes I'll have a melody and a hook, and then 15 minutes later, there's a song sitting in front of me on paper or my computer screen. That's what happened with "Driftin' Apart;" in 15 minutes I had a tune, and just had to refine it a bit. That same day I wrote "Left Out in the Cold," which is about a homeless person.
I try to write a song that says something or makes you think about something instead of just saying it blatantly. Like the first line of "Left Out in the Cold" is "A tattered coat and hunger pains/The shelter's dry if it rains/This cardboard sign is getting old/And the seasons change from hot to cold." What I try to do is set something up like that and not say, "Hey, I'm a homeless guy and it's cold out here. I think I'll go to the shelter if it rains." That would be too easy. But for me it's difficult to say something without saying it.
I have another song that I've been working on since November. Sometimes the ones that come really fast are great, and sometimes they're not. Sometimes the ones that take some time are great, and sometimes they're not. There's just no way to tell until you play it with the band, feel it out, and get some arrangements. What I like to say is "you have to hear it to hate it."
AN: How'd you get into the whole cooking and house concert thing? How successful has that been for you guys?
FS: I love to play music and I love to cook, and when we put that together, it turns out awesome. Food and music bring people together. Like I was saying earlier, those times I spent with my family sharing a meal and playing music have been some of the most memorable and poignant times in my life. It's this really awesome vibe. It's the same thing in the bluegrass community. When people get together for jam sessions, they'll bring food. I wanted to bring that vibe to another level. I'd done it a couple of times and they turned out great. We're continually booking them; it's a great opportunity for people in the region to get a meal and hear some music. It's basically a private party with a three course meal and a concert. We'll do some events on the road for up to 50 people where I cook what's called a "one pot wonder"—I heard Rachel Ray is using that now, so I don't know if I should use it (laughs). That's a little less formal; we don't bring tablecloths or anything, just bowls and spoons and a huge, 36-quart pot that I cook in. Then we play a concert after everyone gets a bellyful.
AN: It's only been a few months since the record came out, but are you working on any new material?
FS: We're talking about getting in the studio next winter. We're gonna ride it out this year; since the record came out in August, we didn't really have a chance to tour with it in spring and summer. Hopefully by Spring or Summer 2012 we'll have a new record if everything pans out okay.
AN: So you've got an IMT gig on March 7, which is also your birthday. Any special plans for that show?
FS: I'm not promising any cake, but we have some guests coming. One in particular is my mother, who's going to be singing some songs with me. She's an incredible singer and a huge supporter of what I do; she was on "Once in a Very Blue Moon" on my album Selfish Tears. Being able to sing with my mom will be a huge birthday present for me. We're gonna do a lot of material from the new record. I would definitely like to encourage people in the area to check out the live show. The record is good and we're proud of it, but the live show really captures who we are. We're going to play a lot of music that isn't on the record, but is super-fun to play and is super-entertaining to hear, plus a few tunes that I never play at concerts. We'll also be celebrating the success of the album—we never really had an album release concert, so you can consider this an area release show if you want. It'll be a fun night for everyone involved.
Interview with Vince DiFiore of Cake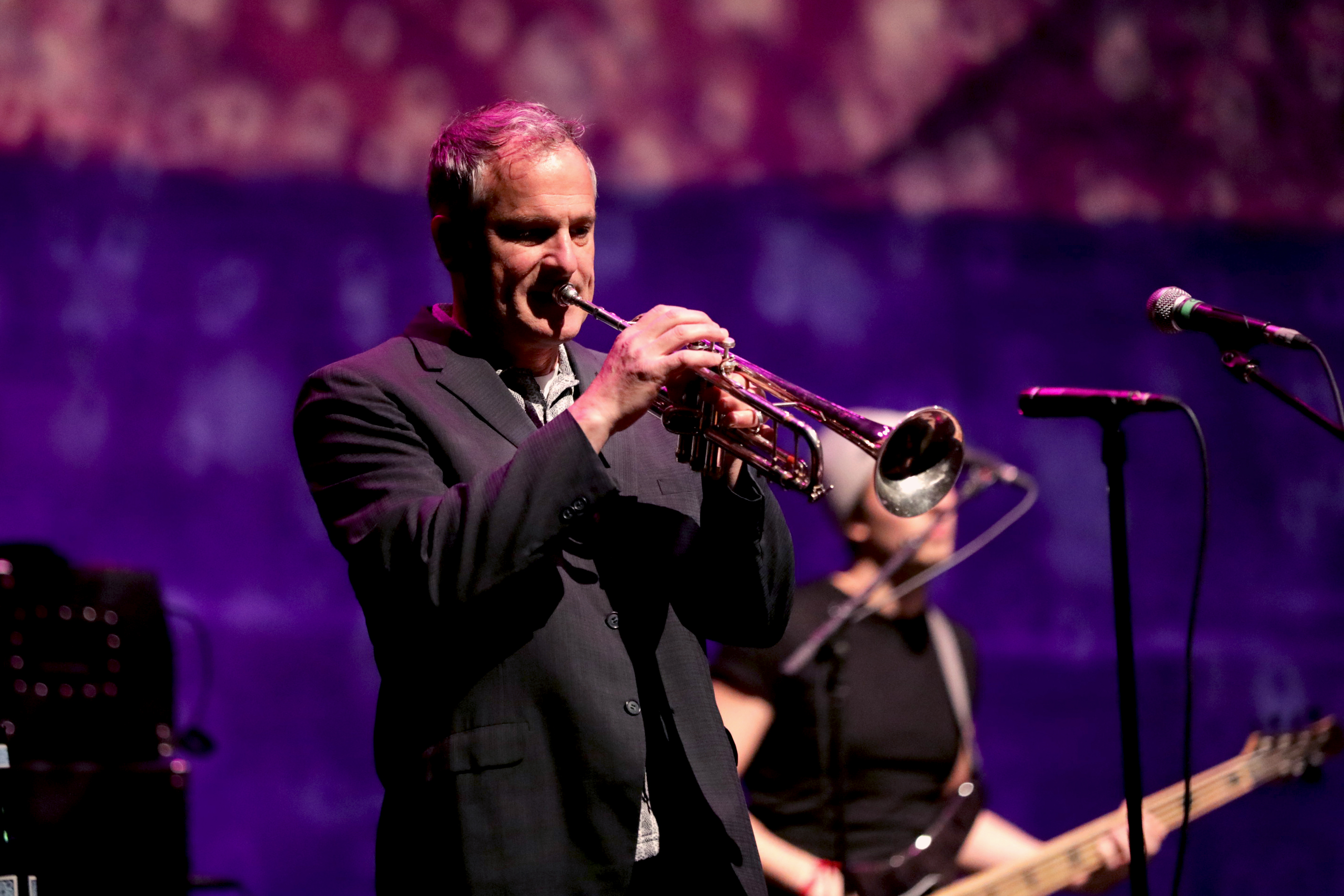 It would be an understatement to say that 2011 is going pretty well for Cake: the sardonic rock band's newest album, Showroom of Compassion, debuted at #1 on the Billboard charts, and they're about to embark on a string of sold out shows (of which the 9:30 Club will host three). We got the chance to chat with trumpet/keys player Vince DiFiore about Showroom, the band's solar powered studio, and where the band's going next.
JULI THANKI: You've been with Cake since the beginning. How has Cake evolved in the past 20 years?
VINCE DIFIORE: The electric guitar was bound to creep in and become stronger; it was so restrained on the first album and the second album, too. There was a very deliberate restraint that didn't want to be restrained, because it's an electric guitar. Given time, that sonic expression of the electric guitar is going to make its presence felt to a greater degree. I think it's the nature of the beast and probably something that had to happen.
I became the default keyboard player in the band starting with "The Distance" synthesizer line. When it dawned on me and everyone else in the band that I was playing keys, we started adding a lot of keyboards in the studio because we had somebody to play them. It was like we added a keyboard player. The first album has instrumental organ parts that we didn't really play when we played those songs live.
The third part of that answer would be the background vocals. We have always had harmony vocals but I think we really stepped it up as other band members have been in the band longer. Once you find your voice in the band, maybe even through your instrument or how you identify yourself in the band, then the vocals come. There's something singing that's very personal, and you have to mean it. All five of us are singing onstage now. Victor [Damiani], our old bassist, never sang, and Gabriel [Nelson, the current bass player] sings. That's been a huge difference.
THANKI: Aside from the B-side comp, this is your first record since Pressure Chief in 2004. Why was there such a long gap in between records?
DIFIORE: We toured on Pressure Chief for two and a half to three years, going all over the world touring, then resting for a while. It became a lot of business details with record labels and stuff. We made the decision to leave Columbia Records and started Upbeat Records and put out B-Sides and Rarities. We did a little bit more touring for that. Then we took about three years to make this last record. We did gigs here and there to keep being a band that plays and has a connection with an audience. We communicated with each other musically and through the website to get us all on the same page and have a similar worldview. We weren't on a deadline; there wasn't a record company saying "Your three years have passed. Where's your next album?" It was up to us. We knew that if we were putting out an album we want it to be an album that we can really stand behind. So we took the time to do that.
THANKI: What else do you dig about having your own label? Is it mostly the freedom?
DIFIORE: It's a lot more freedom. There's a feeling of helplessness in anything if you don't have control over the situation. It's probably why couples fight so much and why there's antagonism in business relationships, because you want to determine the outcome of something and say how much of your life is going to be committed to something and hope that the commitment turns out to be some sort of self-fulfillment also. When you're living like that and you don't have control, it makes you feel helpless. We're experiencing the opposite of that now in terms of calling the shots. There's a lot more administration that needs to happen, but we have a very good manager and a very good distributor. Everybody put their best foot forward and had all the pistons firing at the same time.
THANKI: I heard you guys have a solar powered recording studio. Tell me a little bit about the decision to go green in that aspect of the band's career.
DIFIORE: We figured how much energy we would need to rehearse and record and then put thirteen solar panels up. Lo and behold, we did the entire album with solar energy. I think it changed the way we felt about being in the studio. It was a really good move. It assuages some of the guilt of being on the road and consuming energy and traveling about and using hotels and all that. Everybody is an energy consumer if you want to participate in society; that's the way things seem to be running. That made us feel a little bit better about [the band's] carbon footprint.
THANKI: Cake plays DC fairly often. I don't know how much free time you have, but do you have a favorite thing about the city or a favorite part to visit?
DIFIORE: You know what's remarkable? The amount of space there is. You'd think it would be a crowded place like New York City or Boston or Philadelphia. Those places are roomy, but when you're out on the Mall, there's so much space around you. There's not much difference in the Mall when there's no one on it and a weekend in the summer when everybody's there. Things are still working out. I feel so safe at night. I love to go out on the Mall at night on a bike or walking; it's so open and peaceful out there.
THANKI: You've got a couple co-writing credits on Showroom. How involved do you get in that process?
DIFIORE: John wrote the words for those songs. He came in with the words and melody; I got credit because I came up with a lot of parts for the arrangements. He was nice enough to give me credit on there, and I think I deserved it (laughs). I did write a lot of the music around the melody. You want something that's interesting both melodically and rhythmically and that goes along with the song. A lot of the process is intuitive, just doing it, then stepping back and then doing it again until everything seems to work.
THANKI: Where do you see the band going from here?
DIFIORE: I liked how everybody worked together on the last album and how everybody felt confident about bringing what they liked about music into the band. That was really great. Nobody was shy about their contributions. We all played how we wanted to play, and there was a great chemistry working out. If we do that for the next record then no matter what we bring in, it'll be something good. It might not be different [stylistically]. It will be a different experience certainly, but the precedent that The Beatles and The Police set for changing their sound on every album is pretty freaky, you know? (laughs)
I think our strength is writing songs within an album. The sound works out for us. It's guitar-bass-drums-trumpet-keys-vocals, and that's what we are. I don't think we're going to bring in any kind of robot to play synths or Xan's going to turn into a classical guitarist or we're going to start playing like U2. It's going to be the same effort if we are so lucky to get together and make more music.
THANKI: As a big Louvin Brothers fan, I was so glad to see you guys touring with Charlie Louvin a few years ago. Whose idea was it to bring him onto the tour?
DIFIORE: That was John's idea. I'm so glad that so many people were introduced to Charlie Louvin's music; that's a great thing. He was fun to be around. It was important for him to be funny. He always had some jokes. He was a very friendly guy. I actually visited him in his museum that he had near the Grand Ole Opry in Nashville. He just hung out there during the day; you could go in and see the Louvin Brothers' stuff and talk to him and get photos with him. He was really a good person to be around. The Louvin Brothers were the Everly Brothers' favorite band, which says a lot. They had those really sweet vocals and wrote incredible songs and harmonized really well together. It's a beautiful thing when brothers are singing like that.
THANKI: Were you a fan of their music before touring with Charlie?
DIFIORE: I knew of the Louvin Brothers from when we were on the road; we had mix tapes and mix CDs in the van and John loved "The Great Atomic Power," which I heard on the way to Portland once. I clearly remember going over the bridge over Lake Shasta and hearing that song. It's a good memory. There's a bunch of great Louvin Brothers songs, but there was about two or three that I knew before we toured with him. It was really special. What a great experience to have.
THANKI: We're about out of time, but thanks so much for talking with me, Vince.
DIFIORE: Right on. I appreciate the interview. Have a great day, and we're looking forward to being in Washington, DC again.
Blake Shelton: New Album, New Format, Newfound Focus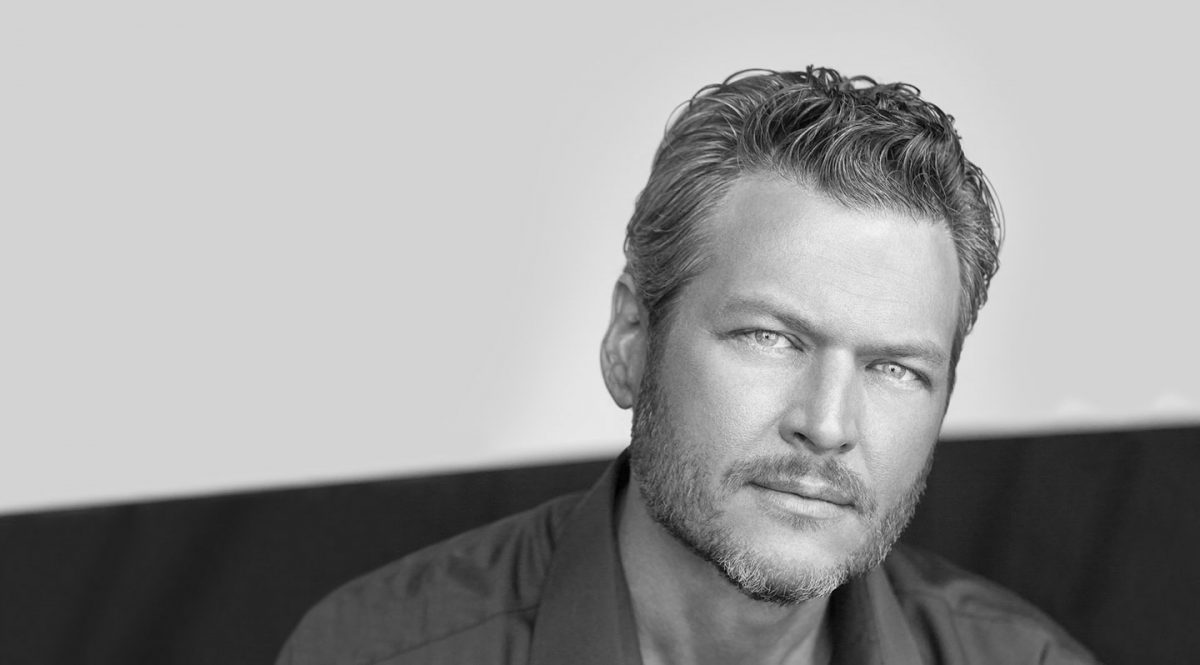 On March 2nd, country superstar Blake Shelton released Hillbilly Bone, the first in a planned series of two 6-song releases dubbed "Six Paks." The second, as-yet untitled Six Pak is tentatively scheduled for August.
The move is an apparent attempt by Warner Bros. to shake up the stale album release formula that has contributed to more than a decade of declining album sales. The two half-length collections–which Warner Bros. adamantly opposes referring to as EPs–will serve in place of a new Shelton full-length album, the most recent of which was released in 2008.
Last week I had the opportunity to chat with Shelton about what this new format means for him as an artist.
JIM MALEC: Will these so-called Six Paks be digital only, or will there also has a physical version available in stores?
BLAKE SHELTON: There'll be a physical product in every normal retail store where you'd find music.
JM: From a business and career standpoint, what's the reasoning behind this substantial shift in formats
SHELTON: Not only do I not really know, I don't even care. (Laughing) That's a record company dilemma. They're the ones that came to me and told me about their idea and about what they'd like to try to do. They asked me if I'd be ok with it.
I came back with, "absolutely." The more I thought about it, you know, I could see the advantages for me, and for my fans. This will make it easier to get music to my fans—and at a lower cost. Honestly–and I don't want to speak for all artists in Nashville 'cause I know there are some that it does make a huge difference with–almost 100 percent of my income comes from touring. So I've never once wondered or thought about how record companies make a profit, or how much they make off a 16-dollar album versus a nine-dollar album versus a six-dollar album. That's never been something I've thought much about because that's never something that's been a big part of my world.
Obviously, I pay attention to how many records we sell. That's always something I keep track of. And, of course, I keep track of what our singles do. Because those things support my touring.
JM: What would you say is more important to you, then, as far as your touring and your profile as an artist: Is it country radio supporting your singles, having new music available on a regular basis or albums sales?
SHELTON: A combination of all of that. When you release a new record, there's a lot of publicity that comes along with that, which, in turn gets me on television a lot more. That, in turn, may make someone out there pick up the phone and go, "Hey man, I heard Blake sing his new song on television this morning and I wanna hear it [on radio]." It starts getting that ball rollin'. It all matters to my world, as far as touring goes. A big hit single out on radio may be the best thing of all.
But as far as how they make money on those things, I'd probably kill myself before I was satisfied with knowing how that all works.
JM: So let's talk about it from an artistic standpoint, then. How do you approach choosing songs for a six-song album? And how is that different, or not different, than choosing songs for a "full length" album?
SHELTON: We were already workin' on a record, and we were right in the middle of it when we decided that we were gonna do this thing. So we had more than six songs recorded already. So, what we decided to do was make the most rounded album we could make with six songs.
We said, let's make it as good as we can, and the things we don't use for the first one will be our starting point for the next one.
That's what we did. And, obviously, I've always been a guy that has four or five ballads on each album. Well, clearly you can't do that with only a six-song album. So "Hillbilly Bone" was set to be the first release, and we had another song recorded called "Kiss My Country Ass" that I knew needed to be on this first record because it fit so will with "Hillbilly Bone." And the record kinda started becoming this little piece of attitude. It was an in-your-face, redneck anthem type of album.
We just decided to go down that road with this particular record. There's only one ballad on the album, and one mid-tempo, and the rest of 'em are all up-tempo, fun, party, drinkin' songs. Which is new for me also, just to kinda go there. To completely go there with my music.
JM: Do you feel like this format for a record gives you more or less artistic freedom? In the future, do you envision each song being recorded as its own, almost one-off project, or will you approach the recording of a Six Pak more as a structured, themed project?
SHELTON: Definitely, each song is under the microscope way more than if you're doing a 12 or 13 song album. You know this as well as I do—if you're makin' a 12 or 13 song album, you end up with two or three on there that probably not only you [the artist] aren't that crazy about but also that nobody involved is really that crazy about. But you need those extras, you know?
You're not gonna record anybody's great songs as album filler. And you're not gonna waste one of your great ones as album filler. And it's not that "filler" means "bad songs," it just means those songs aren't difference makers.
When we're doing a record like this, we can't have one song on there that's not great. Each song you cut has to have the possibility of being something great. Whether you're even thinking about getting it played on the radio or not—just like the song I mentioned before, "Kiss My Country Ass." We know good and well that's not gonna be played on country radio. But we also know that there's a lot of other avenues for somethin' like that. The song will get a lot of attention.
So we had to think about it that way, as each song being really important. Because once they release this thing, they're gonna go all kinds of directions with songs. There's only one that goes to radio, so they have a lot of projects to do with the other five songs to get them heard as quickly as possible.
JM: I remember when Rhett [Akins] released "Kiss My Country Ass" as a single–I had the same thought even back then: "There's no way!" I think I heard it on the radio once, and that surprised me–
SHELTON: –and it was bleeped out!
JM: It was! But on the subject of that song, I read a quote from you that said something to the effect of it represented the kind of artist you want to be. You said that you heard that song and realized it as the foundation for what you wanted to do in the future. Do you remember saying that, and if so, can you expound on that statement? I know you take a lot of pride in being Blake, so talk to me about what that song in particular means to you, personally and artistically.
SHELTON: Well, artistically it…man, here's the thing: You can exist a long time in this industry by having hit singles. And this, what I'm about to talk about, has happened a lot. I've seen it happen to a lot of artists. I don't want to be one of those artists that was "the guy that sang 'Austin'," and "the guy that sang 'This Song' or 'That Song'." I want people, when this is over, to go "Blake Shelton…" and then remember my songs. Not vice-versa. Not think of a song and then try to remember who sang it.
I guess what I'm sayin' is that at some point here I came to the realization that I've gotta try to step out and become a person that people know what I stand for. I want them to have something they can cling on to, whether they hate me or love me for it. They've gotta know who I am. And I finally…well, you gotta figure that out for yourself, first. Then you've gotta find a way to get it to the fans. And then you just hope they buy into it.
For me, I just finally started realizin' some things. I moved back to Oklahoma because I missed bein' out in the middle of nowhere. I love my friends and my family. I love drivin' back roads. I love drinkin' beer. I love that type of thing. So, I guess that's who I am at the end of the day. And I need to figure out how to connect that with my music.
I'm finally doin' that.
JM: What is country music?
SHELTON: Country music to me is…oh man, that's an excellent question.
It's music that's about real emotions and real things that real people go through. And real feelings that real people have. That's the easy answer. To me, the bigger picture is that it's music that has the ability to adapt. It's always music that people—generations—take ownership of. They don't want to let go of their decade, or their two decades. And I love that about it, that each generation has its own decade or so that they've staked their claim on. "Man, that was the good years of country music," you know?
If you look at country music, when it was created and who it was created by, it's so much different then that now. In so many ways. You'll hear a lot of people in my parents' generation bitchin' about how country ain't country no more—well, the music they were listenin' to wasn't country to their parents. It'll always be that way, and that's my favorite thing about country music—if you look at the history of it, from then 'till now, there really aren't any boundaries. Because it has its own way of stayin' true.
---
This content originally appeared in the country music blog The 9513, which ceased publication in 2011. It was added to American Noise in 2018. 
Honeyhoney on Hiatus: Revisit our 2008 Interview with Suzanne Santo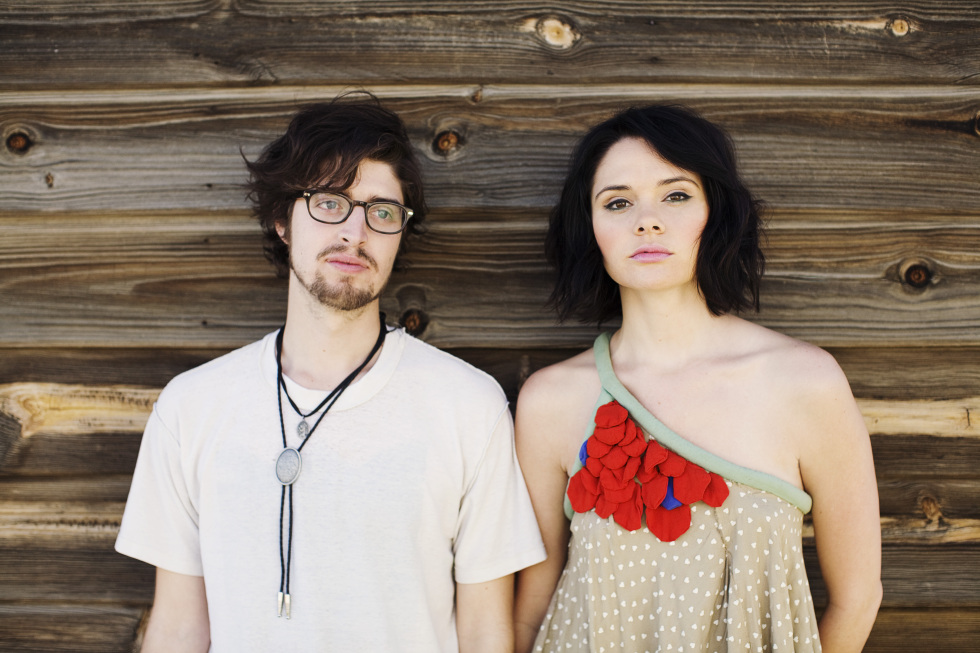 According to lead singer, fiddler and banjoist Suzanne Santo, Honeyhoney isn't country. But on the Venice CA duo's debut album First Rodeo, the powerful vocalist and her musical partner Ben Jaffe have crafted a style that is rootsy and rhythmic, one which sounds deeply and naturally connected to the genre's traditions. Lyrically, the record is stark and raw, marked by moving songs of love, homecoming, fear and anger. That First Rodeo occupies this particular musical space is not surprising given Santo's influences.
"I love bluegrass, Appalachian type stuff," she explains. "I listen to a lot of Earl Scruggs and Pete Williams, Johnny Cash. Gillian Welch."
But Santo has eclectic taste, also citing Tupac and Master P as influences. And while you won't find anything resembling 90s gangsta rap on the record, it does brush up against jazz, blues, and even ska (on the delightfully frantic "Give Yourself To Me").
"We weave in and out, like we're drunk-driving through music genres," Santo says. "Let's go a little more rock this time, or let's go a little more cowpunk. And I like to believe that people will take to our music because of that."
Finding Her Way, The Hard Way
Growing up in a small town in Ohio, Santo spent her early teens busing tables at her grandparents' Italian restaurant and dreaming of something different. At age 14, she landed a few small-time modeling gigs, which opened the door to bigger gigs in Chicago and Tokyo. Two years later she was fully immersed in the modeling world and moved to New York City, where she attended a private performing arts school. From a family of modest means, Santo financed her education with the earnings from her photoshoots.
"Pretty much anything I made would go to the school," she says.
At first, her parents made frequent trips into the city to visit and attend to her business affairs. But the strain of so much travel wore on them. Santo was emancipated when she was 17. She was living on her own and fending for herself. And her modeling work was drying up.
"It was a really hard time," she says. "My body started to change and I wasn't landing as many jobs. I had never had to diet before. I had never had to cut back anything that I was eating. When my body started changing and I was getting curvy, I wasn't working as much and I needed to pay my rent. And the stress it would put on me would be really scary."
So she tended bar and waited tables at a barbecue joint. She worked as a nanny and a building manager. She struggled to keep things together, and she started mapping out a new path for her future.
"We're Definitely Not Named After the Abba Song"
While in New York Santo started acting, and her acting aspirations eventually led her to Los Angeles. She even scored a few small roles in shows like Law & Order and Without a Trace. But she was also writing music and performing at open mics around town, which is where she caught the attention of a music engineer known as "The Double" who had worked with Jaffe – a New England native and Gershwin-bred classical music fan who was previously the guitarist for Sonya Kitchell – on a solo project credited as Black Tie Society. The Double introduced the two, and it didn't take long for a new partnership to bloom.
"We started singing each other's songs and mushing 'em together and then we started writing together," Santo says. By the time the two new collaborators had finished their second song ("Come on Home," which appears on First Rodeo), they realized that something special was brewing.
"After we wrote that song we thought, wow, this is great. Let's keep doing this."
Santo and Jaffe officially joined forces not long after under the moniker Zanzabar Lewis, a title coined from Suzanne's childhood nickname. After signing with Kiefer Sutherland's Ironworks Records, the duo wanted to find a name that more accurately reflected the tone of their music.
"We choose Honeyhoney because it's kinda southern and sassy," Santo explains. "We're definitely not named after the Abba song."
"I Can Smack His Ass Around"
"We're married without the candy," Santo says of her relationship with Jaffe, not really joking. "Sometimes Ben and I forget to hang out because we're so busy. But he's hilarious. I freakin' love that kid. But no nookie."
"Besides," she says, "I'm about six months older, so that means I can smack his ass around."
Their personal relationship may be platonic, but First Rodeo is a sexy and intimate record. Jaffe's churning guitar rhythms complement Santo's sometimes soaring, sometimes searing vocals. The first single from the project, "Little Toy Gun," is smoky and dangerous – a modern gunslinger of a track. On "Sugarcane," the subtle moan of a steel guitar underscores unforgiving lyrics: "You say you're fine and sigh, sigh, sigh/So when I fuck around, don't ask me why."
Like Honeyhoney itself, First Rodeo is hard to classify. It simmers then boils; it whispers then howls. Throughout, Santo delivers stunning performances that will make you wonder why the hell you haven't heard of her yet.
"When we signed our deal, Ben was teaching music at a store in Redondo Beach, and I was doing all these different day jobs," she explains. "Before we signed it was really hard to keep our jobs and continue to be busy with music and have time to write and practice. And when we finally signed and got our advances, we were able to live off of music as a job, which still blows my mind. I'm like, holy shit, I don't have to sell barbecue anymore. I don't have to watch babies to pay my bills. When you work in the service industry or you're a teacher it's consumes a lot of your time and at the end of the day you're really tired and exhausted and it's harder to be creative. I feel like we have more room now to be creative."
---
This content was originally published in the country music blog The 9513 on November 7, 2008.