My Chemical Romance Play To Their fans in Vancouver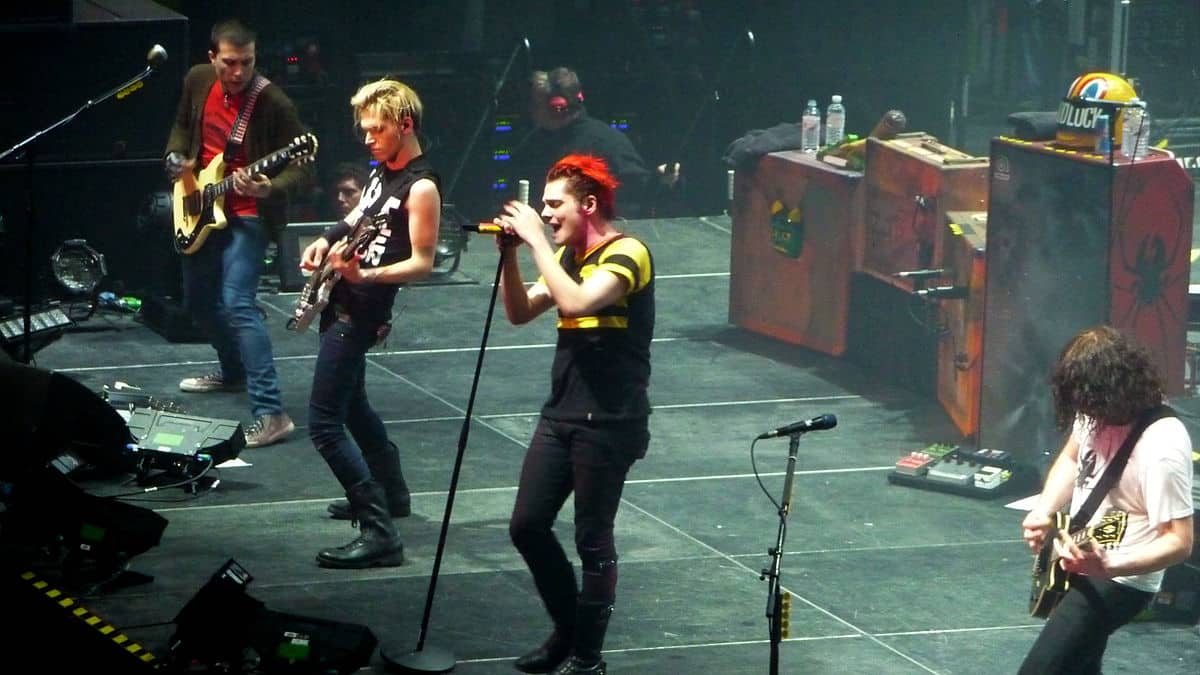 Going to a My Chemical Romance show is a bit like stepping into another world–one composed of a frantic teenage pseudo-culture that begs to be studied and documented. Anyone over the age of 25 is bound to feel a bit like a sociologist stranded deep in the wilds of multicolored hair dye, oversized MCR merch, and small faces that reveal the eternal struggle between the need to look cool and disaffected and the natural urge to squeal and go apeshit.
MCR has always gotten a rap for being a band that panders to teens, and while they do, they also possess succinct songwriting talent with hints of metal scattered throughout–something that shines on their latest (and critically acclaimed) album Danger Days: The True Lives of the Fabulous Killjoys.
Yet their previous albums, particularly The Black Parade and Three Cheers for Sweet Revenge, have turned into a scapegoat for emo rock and gothic pop favored by mopey youngsters. Regardless, though, of what age most of their fanbase appears to be, there's no denying how loyal and enthusiastic their audience is. And the band knows this, turning them into a well-oiled money making machine.
At the recent MCR show at Vancouver's The Centre for Performing Arts, that band-fanbase connection was so strong that the audience had an effect on the band's performance. For one thing, the venue was actually a poor choice since everyone was allocated into seats. Seats are not what you want at an MCR show, and magenta-hued frontman Gerard Way made several notes of this throughout the show (even saying they would be back in the summer to play again–and hopefully at a non-seated venue). At an MCR show, you want to "get up and go" as the frenzied third song they played ("Planetary Go" from Danger Days) suggests, and unfortunately the crowd just couldn't cut loose.
This, in turn, affected Way's performance–half the time he was engaged, but the other half he was rather lackluster. At the start of some songs he would get really into it, and then once noticing the crowd couldn't really move, kind of gave up.
The venue wasn't really built to handle a rock show anyway. The acoustics are better suited for the singer-songwriter crew, not a rock band (a fact made all too apparent by the venue's mature ushers who were not equipped to deal with a rowdy, young crowd). As a result, the sound wasn't quite as high caliber as it could have been. If you were seated at the far left, you could barely hear guitarist Ray Toro's Brian May-ish solos. If you were at the far right, you couldn't hear any keyboards.
Aside from the venue, the other downfall was the band's use of vocals. Certain songs have a distinctive impact to them thanks in part to the layered use of vocals on the recordings. Done live, the songs lacked that added "something." With "Sing," Way wasn't able to build up his voice and hit the high notes during the bridge, one of the best parts of the song, while on "Destroya" the backing vocals were lacking, which took away the song's wonderful edge.
This, of course, is the critic in me speaking. The overall verdict is that they put on a fun, enjoyable show despite the setbacks–with hits such as "Vampire Money," "I'm Not OK," "Summertime," "Teenagers," and "Bulletproof Heart" being real standouts. In the end, My Chemical Romance plays to their fans and their fans were very happy–judging by the immense sing along they sprouted during every single song, the crowd participation (arms waving, copying Way's every move), the couples holding hands and bonding over "their song," how loudly they cheered after "Helena" (my earplugs would have come in handy), the elated faces as they flocked out of the theatre and lined up around the block to see if they could catch the band heading to their tour bus.
Actually, of all concerts I've covered, I don't think I've ever seen a crowd so devoted–so into it that, at times, I was wondering if this was the new Beatlemania. They may not be the legends that The Beatles are but if today's teenagers are listening to My Chemical Romance instead of Justin Bieber, I don't think that's a bad thing at all.
Setlist
"Na Na Na"
"Thank You for the Venom"
"Planetary Go"
"Hang 'em High"
"Sing"
"Vampire Money"
"Mama"
"The Only Hope for Me is You"
"House of wolves"
"Summertime"
"I'm Not OK"
"Famous Last Words"
"Destroya"
"The Black Parade"
"Teenagers"
"Helena"
Encore 
"Bulletproof Heart"
Concert Review: Over the Rhine at the Birchmere
Karin Bergquist and Linford Detweiler are perhaps the antithesis of Ike and Tina or George and Tammy: they're two people who have been married and singing together for twenty years and still seem to have a happy and functional relationship. Oh, and they've got some incredible songs, too.
The duo, joined by four stellar musicians (especially deserving of recognition is pedal steel/harmonica/lap steel whiz Jason Goforth), captivated a near-capacity Birchmere on Sunday night with an hour and forty minutes of music and eminently quotable storytelling about events that seemed like, as Bergqist defined it, "a head-on collision between comedy and tragedy," like "Only God Can Save Us Now," a part amusing, part heartwrenching tale about the denizens of Bergquist's mother's nursing home.
Nearly all of the fourteen song set came from new album The Long Surrender, with the exception of a couple past cuts like "Trouble," which sounded straight off Doris Day's Latin for Lovers album. Both Detweiler and Bergquist are heavily influenced by American music history, something that was evident on "Undamned," which drew on old hymns and also found Detweiler stepping out from behind his piano and strapping on a guitar. "There's a Bluebird in My Heart," meanwhile, is a torch song that sounds straight out of some prewar jazz club (turns out it's influenced by a Bukowski poem). Bergquist has some major pipes, sultry, smoky, and seriously powerful; in the words of her husband, she can—and did—sing her ass off.
The band closed the evening with "No-Kill Shelter," a lively boogie for the stray dog in us all that was inspired by the couple's own propensity for taking in strays. In our interview last week with Linford Detweiler, he hoped that last night's show would make "people laugh really hard, and if they tear up, that's great, too. I hope the experience causes a whole array of feelings. Maybe they'll get to see people doing what we were born to do, and hopefully that feeling will be contagious." Mission accomplished.
SET LIST
The Laugh of Recognition
Rave On
The Sharpest Blade
Suitcase
Undamned
I'm On a Roll (to be covered by The Judds on their upcoming album. Yeah.)
The King Knows How
Oh Yeah By the Way
Infamous Love Song
Only God Can Save Us Now
There's a Bluebird in My Heart
Trouble
Days Like This
All My Favorite People
ENCORE
Drunkard's Prayer
No-Kill Shelter
Concert Review: Lucinda Williams at the 9:30 Club
Like scotch and George Clooney, Lucinda Williams just keeps getting better with age. Last night the 58-year old queen of Americana enthralled a sold out 9:30 Club with nearly two hours of songs, charmingly awkward stage banter, and two encores.
Though she didn't play any tracks from Happy Woman Blues or Ramblin', the set list covered the majority of her career with songs that ranged from "I Just Wanted to See You So Bad" from her late '80s self-titled record and  "Pineola" (from 1992's Sweet Old World), to a handful of cuts from her newest album Blessed, released last month. Williams' voice, which could peel paint, has that incredible ability to cut right to your heart, especially when paired with her introspective songwriting. But just because she's introspective on songs like "Sweet Old World" and "Convince Me" doesn't mean that she can't tear it up when needed. Her band—especially guitarist Val McCallum of Jackshit—tore it up with some fantastic shredding on "Unsuffer Me" and the gritty "Real Live Bleeding Fingers and Broken Guitar Strings" while Williams alternated between an acoustic Gibson and sparkly Telecaster.
Williams isn't one for stage banter, refraining until an audience member begged "Talk to us, Lucinda!" She complied with a brief tale about watching Glenn Beck talk about "nuclear physics or something" before abandoning that train of thought and putting her guitar back on. She was infinitely more self-assured behind that guitar, belting out "Essence," which may be the sexiest song ever recorded, and the innuendo-laden blues-influenced tune "Honeybee."
Opening act Dylan LeBlanc came out to join Williams and band for the first encore, and stuck around for the second, which consisted of a cover of Buffalo Springfield's "For What It's Worth" (you know, that "stop, children, what's that sound" song) that Williams sent out to the Wisconsin protestors with a few peace signs and a "Power to the people." The crowd ate it up, chanting along to the chorus before heading back out into the rainy DC night.
SET LIST
I Just Wanted to See You So Bad
Fruits of My Labor
Metal Firecracker
Still I Long for Your Kiss
Pineola
Drunken Angel
Buttercup
I Don't Know How You're Livin'
Sweet Old World
Born to be Loved
Convince Me
Seeing Black
Essence (seriously, this is the sexiest song ever)
Unsuffer Me
Real Live Bleeding Fingers and Broken Guitar Strings
Righteously
Changed the Locks
Honeybee
ENCORE 1
Blessed
Get Right with God
Joy
ENCORE 2
For What It's Worth (Buffalo Springfield cover)
Concert Review: OK GO at Nashville's Mercy Lounge
When most casual fans are asked about the band Ok Go, a good number will respond by mention something about one particular (and infamous) You Tube video. In fact, that dancing-on-treadmills music video is how the band first began to make some big steps forward, and from there they continued releasing more and more inventive videos (ranging from their choreographed marching band clip to their terribly satisfying Rube Goldberg Machine), all the while creating a sizeable Internet fan base. Don't be fooled though, the music video for "Here It Goes Again" may have over 50,000,000 views on You Tube, but what brings fans back for more is the lasting impression of their "dancey" art pop rock.
It's not too often that there's a line of people snaking all the way out to parking lot gates an hour before any show at Nashville's Mercy Lounge. This was the case though for last week's Ok Go show, and even as the sky began to sleet, waiting concertgoers remained in high spirits. Once making it in from the unholy cold, everyone was greeted with a pair of 3D glasses before taking their place in the crowd.
However, by the time opening act Samuel took the stage, the previously spirited crowd turned into typically lethargic Nashville audience. Samuel tried to rouse the sleepy mass with bass heavy pop sing-alongs, while the second act Those Darlins tore though their garage-informed southern rock set with songs about "being to hungry to have sex" and a hot cover of The Guess Who's "Shakin' All Over."
Seemingly tired of the crowd's lack of gusto, Nikki Darling warmed things up by hopping off that stage to start up some dancing.
Before Ok Go took the stage, their crew set up and adjusted an intriguingly strange array of instruments—ranging from an easily identifiable drum set and bass to a large set of chimes and what appeared to be small video cameras mounted on the microphones. The band finally emerged, looking a bit like walking crayons in their colored suits of blue, yellow, green and red, and kicked off the set with "Do What You Want."
They didn't waste time starting up the confetti machine, which proved to be almost as important as their drummer, due to it's showering of the crowd several times during almost every song. It's hard to imagine so much confetti outside of a Flaming Lips concert or a music festival, but truth be told, you can never have too much confetti.
While working through songs off both their older Oh No album and their newest disc, Of The Blue Colour Of The Sky, they incorporated different homemade gadgets, one of which appeared to be a little box with a light attached which emitted different frequencies when played with by Damian Kulash, the lead vocalist, guitar player, and charismatic circus leader of the show.
On his left bounced their bass player Tim Nordwind in his signature sunglasses, and on his right was Andy Ross, who switched between guitar, double neck guitar, keyboard, and chimes.
At one point, a table full of bells was pulled onto the stage and Dan Konopka, the drummer, joined the rest of the band front and center to don some white gloves. After shushing the crowd, they proceeded to play an entire song with hand bells.
After, and in order to play "Last Leaf" "hippie-style," Kulash grabbed his guitar and mic stand and set up in the middle of the crowd to perform the song amidst cell phone clutching fans. Being a very media aware band (as shown through their large online presence), they paused midway through the show to announce that they were videotaping the show, and that if concertgoers texted email addresses to the number on the stage screen, they would receive a recording of one of the songs from that night. Then, Damian took a picture of the crowd so everyone could tag themselves on Facebook.
Eventually, the band announced to the crowd that it was time to put on their 3D glasses so they could watch the music video for White Knuckles in 3D on the stage screen. It was these little random things that made the movements of the show greatly embody the nerdy dance rock that is Ok Go.
After being cheered back on stage for an encore, the band stood side-by-side facing away from the crowd in order to show the backs of their jackets light up and create a sort of human slot machine. After having all the jackets land on the grand prize, the crowd was showered in yet more confetti, and the band broke out light-up guitars with faux fur and lasers attached to the heads. (Nordwind had modified his bass to show a light up rolling script alongside his lasers.) To say the least, it had quite an effect on the crowd.
After the show, a surprisingly wide variety of fans trudged through mounds of confetti towards the door, from the man easily old enough to be someone's father sporting an Ok Go ball cap to the young girls toting a sign that said "OK GO IS SO DAMN HOT!"
While Ok Go's live show felt like one of their music videos came to life and decided to have a party, it is also perhaps a taste of the future of the concert experience that fans of varying ages can enjoy.