Album Review: Wavves – King of the Beach
It's impossible to talk about Wavves without addressing the band's troubles. In May 2009, after releasing a debut album that met with grassroots support and critical high-fives, frontman Nathan Williams took the stage at the Primavera Festival in Barcelona and proceeded to launch the most epic of fails: indulging an endless soundcheck, mocking the crowd, noodling aimlessly on guitar, dodging bottles from fans and sticks from his disgruntled drummer, and watching as the crew unceremoniously dismantled the drumkit while Williams tried to keep going alone. The event triggered an explosive backlash, both online and off, as detractors and fellow musicians saw his behavior as the culmination of white-kid indie-rock entitlement: Most young acts would kill for a slot in front of 80,000 festival goers, but Williams seemed to wish he was any place else.
Perhaps he wanted to be back at the beach? His follow-up to that fiasco is titled King of the Beach, which is kind of a duh for a group called Wavves. "Let the sun burn my eyes, let it burn my back," he sings at the beginning of the title track, before turning those four words into a catchy sing-along.
At first this milieu comes across as indie trendspotting, as so many bands are leaving the garage for the shores lately (including Williams' girlfriend Bethany Cosentino of Best Coast). But eventually, the setting becomes a beach of the mind: an escapist fantasy, a place where he can retreat from his own reputation.
There, Williams can crank his Beach Boys and Ramones records to bratty volumes, pilfering from his influences to construct infectious songs with insouciant competence. Working with new rhythm section Stephen Pope and Billy Hayes (of Jay Reatard's old band), Williams places abrasive guitars alongside tongue-in-cheek synths and Brian Wilson harmonies to create a sound that is at once warmly familiar and askew. The sand gets everywhere: "Baseball Cards" drenches its girl-group sha-la-la's in gritty distortion, and "Mickey Mouse" commingles E Street boardwalk shuffle with staticky vocals and lo-fi guitars.
Of course, Williams' troubles have followed him to the beach and occasionally block out the sun or kick sand in his face. "I'd apologize but it wouldn't mean shit, it wouldn't mean shit," he sings on "Idiot," ostensibly addressing his own reputation and the precarious position he's found himself in. Self-deprecation permeates every track, as if to prove that no one hates Nathan Williams as much as Nathan Williams. "I still hate my music, it's all the same," goes "Take on the World." "My own friends hate my guts," goes "Green Eyes. He's documenting his own punishment in song, deflecting others' disdain by beating himself up.
Of course, that push-and-pull of assertive self-loathing only makes King of the Beachthat much more fascinating: Williams may be a fuck-up, but he's a self-aware fuck-up, dressing himself down in his lyrics by building himself up in his music. It's a fine line in the sand, but he walks it with such charming nonchalance that it's impossible not to let bygones be bygones and join him in the surf.
Album Review: Yelle – Safari Disco Club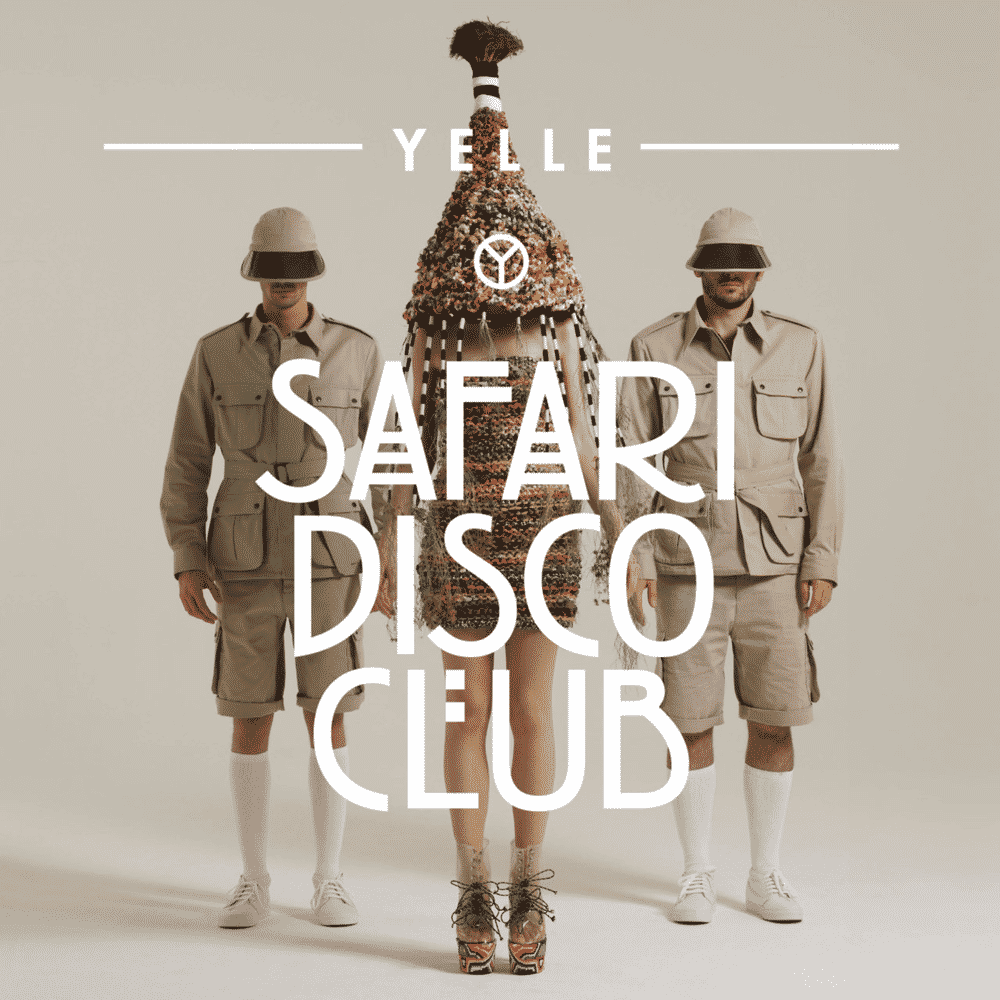 When Yelle arrived on the scene in 2006, it was with "Je Veux Te Voir," an attitude-packed and hilariously vulgar diss track directed toward rapper Cuizinier for his misogynistic views. The 2007 debut album, Pop Up, spawned two more minor hits with "A Cause des Garçons" and "Ce Jeu." The French trio, led by singer Julie Budet, established themselves as purveyors of summery electropop. Then, they all but disappeared.
To a certain extent, Yelle have kept busy since their first album, remixing Katy Perry's "Hot 'n' Cold" and appearing on the Kennedy track "John and Yoko," as well as covering "Who's That Girl?" by Robyn. However, in such a fast-paced music environment, no one can afford to take four years between albums unless the result is something that could universally be considered a masterpiece. Yelle's sophomore release, Safari Disco Club, is a good effort that falls short of legendary status.
They've grown out of the youthful spirit of Pop Up, though "C'est Pas Une Vie" packs a bright punch, while "Que Veux-Tu" and "Unillusion" make good use of '80s pop references. Songs like "Chimie Physique" and "La Musique" are much more mature in tone than anything Yelle have released before. There's also more actual singing from Budet, rather than the sing-rapping previously employed. Safari Disco Club showcases a more developed act, but it doesn't sound like four years' worth of growth. The more subdued approach makes sense, but the songs aren't as engaging as established fans might expect.
The dance scene has changed drastically since Yelle's debut. This isn't to say that producers GrandMarnier and Tepr should have gone for a dubstep approach—it wouldn't suit Budet's voice, though "S'Eteint le Soleil" has hints of grimey bass—but in an environment where the fresh-faced Londoner Katy B is poised for a takeover, it's difficult to see where Yelle's role is now.
The album sounds solid, with plenty of agile synths to spare, but it's difficult to see what role it plays; it's not exactly more of the same, but it may as well be. Safari Disco Club is worth a listen, but it fails to assert itself as something that demands listeners' attention.
https://youtu.be/c53iVBzdBiY
Album Review: Broken Social Scene – Forgiveness Rock Record
In the five years since Canadian chamber-rock band Broken Social Scene released its last album, lead Scenester Kevin Drew has ably stepped into indie-stardom, nurturing mass-anticipation for the collective's upcoming opus.
Enter Forgiveness Rock Record. With the Toronto outfit choosing to explore every bit of the space that their physical largesse affords, the wait has been worth it—even if the album requires a bit of stamina in order to fully grasp the triumph.
Perhaps the group—composed of a fluid membership that often numbers well into double digits—is finally becoming exactly what it is they were likely always going to be: a dramatic, sweeping and engrossing baroque-rock troupe. Besides, it's not often that a group that has featured a melodica in the past acts as though it's a power-pop trio, which many of their earlier songs have suggested.
While a lack of sonic cohesion does make itself evident, as the result of a mixed bag of styles that can often distract rather than attract, the significant and unifying thread of Kevin Drew's Jeff Tweedy-esque, achy vocals equip the entire proceedings with immense heart. Some sort of binding agent is necessary, however, due to the divergent styles showcased. By showing off their skills in Post-rock ("Meet Me in the Basement"), bombastic, arena-anthems ("World Sick"), playful prog ("Chase Scene") and effective melody making ("Texico Bitches"), it's quite clear that this is a group that is more comfortable stretching their musical legs than the average listener will likely be sinking their teeth into this album.
Given the amount of time between records, not only is Forgiveness Rock Record an example of good things coming to those who wait, but also, to those who also don't mind putting forth a little effort to gain great reward.
EP Review: Dan Fisk — Bruises from the Backseat
When an album's liner notes list multiple banjo players on the same song, you know it's going to be an enjoyable listen. Dan Fisk has two banjo pickers on"Life and Limb,"  from his new solo EP, but that's not the only thing he's got going for him on Bruises from the Backseat (out 6/28).
Fisk (an upstate New Yorker who's spent the past decade in Virginia), has a radio-ready, slightly raspy voice and solid songwriting skills. Album opener "A Thousand Love Songs" is the highlight of the disc, and had it been released fifteen years ago when Vertical Horizon and Matchbox 20 were flying up the charts, Fisk would probably be blowing his nose with $20 bills right now.
The EP's sole cover is a version of Paul Simon's "Stranded in a Limousine," which features fellow area singer-songwriter Ted Garber on harmonica. It feels a little out of place among the more mellow tracks on the record, but it's definitely a fun listen.
Bruises from the Backseat is a promising solo release from Fisk. Let's hope a full-length record is next.
Listen If You Like: Duncan Sheik, The Wallflowers, Joe Pug, Jason Mraz