Album Review: Steve Lukather – All's Well That Ends Well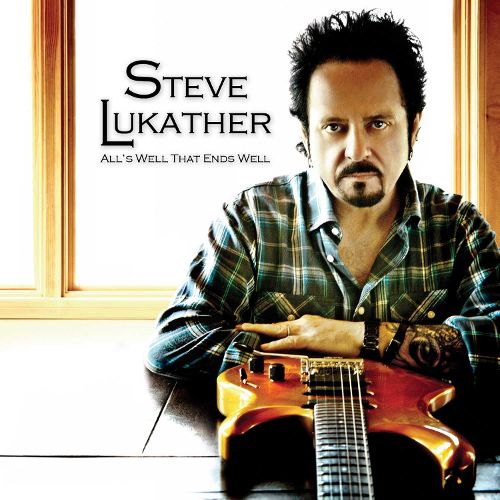 As the leading force behind Toto, Steve Lukather was part of one of the most successful soft-rock/pop bands of the late 1970s and 80s. But he didn't get much of a chance to exercise the extent of his guitar prowess since the band stuck to a tried-and-true formula of radio-friendly hits. He's release studio albums, however (two since the demise of Toto)—aided along the way by a myriad of musicians including Don Henley, Warren Zevon, and Michael Jackson.
Here, Lukather has managed to blend a variety of musical flavors together to create an impressive new album All's Well That Ends Well combines a mixture of soft rock, mood music and relatively edgy rock to amalgamate an impressive spectrum of musical styles. While there are a couple tracks that emanate Toto's sound—especially the smooth lustre of "Can't Look Back"—the bulk of the album rises and descends between blues, rock, and ambient. "On My Way Home" has a gorgeous Steely Dan-like smoothness to the rhythm and the laid-back lilt of Lukather's guitar playing, while "Don't Say It's Over" breeds an enveloping trance in amongst the dreamy waves of guitar and background instrumentation, topped by Lukather's gentle vocal blanketing.
Lyrically, Lukather seems to be tying together a mild theme of promise, perseverance, and silver-lining seeking in a world of despair and encroaching anguish. He doesn't use fancy, poetic metaphors or intricate analogies in his writing, but instead focuses on simplistic lyrics that depend on the music and tones to elevate them a little bit higher than they may have seemed without these aids. While it's difficult to ignore the maudlin feel that creeps through some of the slower songs, there is enough differentiation in other tracks to arouse interests that may start to wane.
The album's best track is "You'll Remember," an edgy, blues-tinted rocker that mirrors past Toto hits like "Stranger In Town" and "Hold The Line," and has Lukather sounding multi-dimensional and colorful. Elsewhere, southern rock and a semi-boogie strut outline "Flash In The Pan," a slippery, fun-infused number that exhibits some of his best guitar manipulation.
If Lukather's talents weren't appreciated on his past solo releases, then All's Well That Ends Well may stem newcomers (and past Toto lovers) into investigating his back catalogue. There's something here for fans of great guitar, with enough fluctuation to keep pop and rock followers captivated throughout the album.