Album Review: Radiohead – The King of Limbs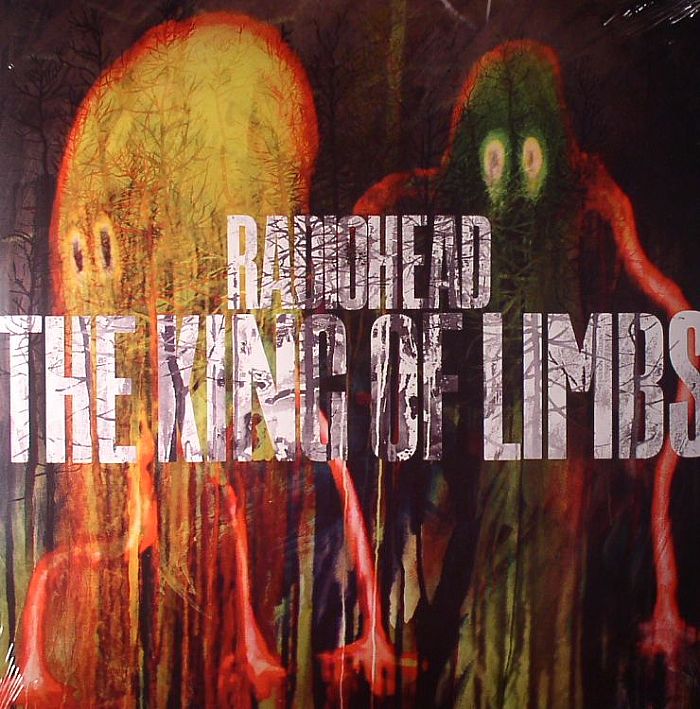 Radiohead like to do it their way. They morphed from a grunge bad to an electronic band in a mere seven years; they released their previous album, In Rainbows, on their own website with a pay-what-you-want offer that brought worldwide attention; they announced their eighth effort, The King of Limbs, less than a week ahead of time—and then released it a day early without notice. There are even rumors that The King of Limbsis only the first disc of two to be released in 2011 by the band.
At this point, I wouldn't count out the possibility that their next album might be entirely composed of "melody roads."
Sure, that may be a stretch. But Thom Yorke and his fellow Brits have already established themselves as one of the weirdest—and simultaneously, most creative—bands in the business. 1997′s OK Computer is generally considered to be one of the greatest albums of the '90s, and their next effort, the stark genre-defying symphony known as Kid A, was named by both Pitchfork and Rolling Stone as the best album of the '00s.
In other words, if you don't listen to them, you're not cool.
But Radiohead aren't really about "best albums" or "being cool." They even defy the oft-misplaced label of "hipster" that has polluted blogs and threads of all types over the last few years. And how do they transcend all of these factors? By doing it "their way"—which really just means making damn good music.
And with a third decade just beginning, Radiohead have yet again stolen the headlines. The marketing ploy certainly manufactured interest in mid-February, but knowing the A.D.D. Generation, that attention might quickly be directed elsewhere if not for the music itself. The King of Limbs, at a mere 37 minutes, offers up only eight tracks—two for each year since Radiohead released In Rainbows—but there is not a second of filler on the entire album.
Musically, the album draws more heavily from Kid A than either of Radiohead's last two releases, foregoing the guitars of "Go To Sleep" and "House of Cards" for an almost exclusively electronic approach. When delicate acoustic chords do appear on album highlight "Give Up The Ghost," they nearly disappear behind vocal distortion at times—nearly as ghostlike as Yorke's mournful dirge of "don't haunt me" that loops for the entire track.
One might be tempted to call The King of Limbs minimal, and perhaps it is—but the adjective still doesn't seem quite right. Songs like "Little by Little" and "Feral" are not so much minimal as organized. They're just as busy as, say, "Bodysnatchers" from In Rainbows, but the music has direction, clarity, and precision.
If Radiohead can be accused of lacking anything over their past few releases, it is exactly these qualities. Now, the controlled chaos that concludes "Little by Little" provides the perfect background for Yorke's melancholy falsetto to murmur, "I'm no idiot, I should look."
As usual, Radiohead's lyrics are determinedly abstract, but they never approach obtuse. The imagery is astounding, from the extraterrestrial uneasiness of "Bloom" ("I'm moving out of orbit, turning in somersaults/I dive into those eyes/Jellyfish swim by") to the "fast-ballooning head" of single "Lotus Flower."
Mirroring the music, the lyrics too are more organized than past albums; they say more with less. Yorke seems at times to be channeling Ezra Pound or T.S. Eliot, especially when he slides gently into the piano-led "Codex." The lyrics are a small poem, assuring the turbulent mind that "you've done nothing wrong" and that jumping into "a clear lake" soothes worries because "the water's clear, and innocent." The nature sounds that conclude the song, juxtaposed with the electronic bliss, are almost enough to elicit tears.
The most important aspect of The King of Limbs, however, is how personal the album feels. It suspends overt creativity, genre-bending, and In Rainbow's pure outpouring of material in favor of a direct, emotionally-charged album. Just when everyone thought Radiohead was running low on surprises, they introduced another one—and it helped them create their most fulfilling work in a decade.
Once again, they're doing it their way, and the result is sublime.
Album Review: M.I.A. – Maya
Abrasive, confrontational and idiosyncratic, M.I.A.'s third studio album can't decide whether it's a flame-throwing manifesto about "information politics" or an aggressive declaration of self.
Whatever its eventual goals, Maya is easily the artist's most prickly offering to date—which, given M.I.A.'s track record, is saying something. And yet, it is also her most revealing.
The woman born Mathangi "Maya" Arulpragasam (this album is named for her, just as her two previous records, Arularand Kala, were named for her father and mother, respectively) seems to be in the throes of an identity crisis throughout. Since her last record, 2007's Kala—which produced the gigantic smash single "Paper Planes"—M.I.A. has settled down somewhat, moving in with her boyfriend (music business heir Ben Bronfman) and having a child in Los Angeles.
But is she giving in to the bourgeois lifestyle?
Even if she hadn't publicly battled a New York Times journalist about the veracity of an interview where she supposedly ordered the high-brow snack of truffle French fries, it's clear M.I.A.'s success as a producer and performer now stands at odds with her desire to be seen as a street-level revolutionary with little to lose.
The punishing, front part of the album—power tools provide the beat for "Steppin Up"—stands in sharp contrast to the almost soothing, gentle back portion ("Tell Me Why" is probably the closest M.I.A. will ever come to recording a ballad). It's a striking dichotomy, this tough and soft, but M.I.A. embraces the challenge of reconciling the two.
Working with a roster of forward-thinking producers (Blaqstarr, Diplo, Rusko, Switch and Sleigh Bells' Derek Miller), M.I.A. relies on startling samples, including snippets of Suicide and the Alabama Sacred Harp Singers. The dense sonic landscapes invite repeated listens, moving past M.I.A.'s occasionally detached, occasionally Auto-Tuned vocal performances and unpacking the stellar work of her production team.
Maya doesn't suggest M.I.A. has lost the taste for experimentation or that her ambition has lessened; "Gravity's my enemy," she warbles on the album closer "Space." If anything, this record feels like someone with creativity to burn wrestling with the need for external expression.
Although M.I.A. could once affect the pose of a musical guerrilla, the passage of time and events that mark most every life (the arrival of domestic tranquility, material success, etc.) have forced a new perspective upon her.
Whether or not she's comfortable with that change is a question Maya can't—or won't—answer.
2011′s Best Underground Music (So Far), Part II
Last month, we told you about some of the best new releases from from the ambient/electronic underground. Here are a few more artists whose work has caught our attention as of late.
Waskerley Way makes beat-heavy electronic music in the UK. Also, he loves cats. (No, seriously, dude's got a thing for cats; last year he dedicated an entire EP to them.) Waterfall doesn't exactly break any new ground, but Michael Bridgewater nonetheless puts his own spin on the otherwise tired "chillwave" trope. In fact, it sounds like the sort of chillwave your future grandkids might discover on a dusty old hard drive in your attic. Meowgaze? Hear and download Waterfall on his Bandcamp.
Ra Cailum is Anthony Engelhardt from St. Louis, Missouri. Not all of the songs on latest EP, Passage, are new, but they've been lovingly collected and offered to curious listeners free of charge in the wake of the December 2010 release of his Walkabout LP, which he says marked the "end to the CHILLWAVE ERA sound of Ra Cailum." He says that sound is "becoming a crutch," but it's a catchy crutch that resonates even more now that the weather's finally warm.
Sean McCann is a cyborg. He has to be. Dude puts out like a bazillion full-lengths each year, and they're all amazing. "Drone" doesn't really do his music justice; McCann uses all sorts of instruments and sound effects–including banjos and warped violas–to evoke different emotional responses in the listener. His latest, entitled The Capital, explores the symbiotic relationship between chaos and beauty. Or, you know, not; sometimes it's best to not sully music this good with academic conjecturing.
A tip of the hat to the ever-awesome ambient music blog Weedtemple for introducing the world to Rug. I know absolutely nothing about this project other than that it's made by a guy named Zach Stenger. But such anonymity is fitting; Deep Sky Clusters sounds less like the work of a person and more like the spontaneous combustion of years' worth of VHS memories and borrowed melodies. It's all very strange, but if you give it a chance, you'll be surprised as to how rewarding these songs can be.
Maria Minerva is 23-years-old and lives in Estonia, where she seems to spend most of her time holed up in her bedroom making ghostly electronica of the lo-lo-fi variety. Her latest cassette is called Tallinn at Dawn, and it's infectious; disco and new wave tinged synth pop backs her ethereal vocals that consistently sound like you're hearing them from another room. Sometimes, one can't help but regret an artist's studio limitations for obscuring a potentially revelatory sound; in Ms. Minerva's case, however, the low fidelity only adds to the atmosphere. Her music sounds like it's actually from 1983, and you've only recently discovered it after finding her cassettes in a shoebox buried behind your local public library.
Food Pyramid make Kosmiche Musik with a psychedelic twist. They've just released the third and final cassette in their krautrock-inspired trilogy. The cassettes are entitled I, II, and now III. Don't worry, their song titles are a lot more creative; who wouldn't want to hear songs with titles like "Lesbian Seagull" and "Speedboat Exit Miami Sunset" and "Last Shuttle To The Red Planet?" I mean, this type of music either is your thing or isn't, but if you wish that Klaus Schulze were actually a trio from Minnesota, then you'll like what Food Pyramid have to offer.
Why I Love Rebecca Black's "Friday"
I first learned of 13-year-old Rebecca Black via a Facebook post that appeared on my news feed about two weeks ago, and my initial reaction to the now ubiquitous "Friday" was a mixture of disbelief and amusement—I couldn't help but chuckle at the atrocious song as I thought about how something so bad could accrue so many views in such a short period of time. Still, I thought of it as something of a novelty—just an internet meme that, like so any others, would sputter and stall once its fuel was burned up.
As it turns out, "Friday" had a lot more gas in the tank than anyone expected.
The culmination of Rebecca Black's phenomenal rise came on Late Night With Jimmy Fallon last Friday, when the show's host enlisted the services of comedian and fake news host Stephen Colbert (arguably one of the biggest stars in the world right now) for a bombastic live rendition of "Friday," backed by none other than Grammy winning hip hop outfit The Roots. Halfway through the song, Colbert and Fallon (who contributed a verse of heavily auto-tuned guest vocals) were joined on stage by American Idol winner Taylor Hicks and the New York Knicks dance team. The performance climaxed in a huge crescendo of movement and color and may well be remembered as one of the most entertaining and culturally defining musical moments of the year.
That fact is sure to make blood boil among the legions of indie diehards still reveling in little-known rock band Arcade Fire's monumental Grammy win for "Best Album," but the truth is that Rebecca Black and her unbelievably bad song penetrated pop culture to a much greater extent than Arcade Fire's unbelievably good album.
Arcade Fire's The Suburbs has sold less than 1 million copies, even in spite of the band's Grammy coup. In contrast, Black's music video for "Friday" has been played on YouTube over 82 million times. Anecdotally, ask your friends or your co-workers what they know about Arcade Fire, and they'll most likely stare back at you with blank faces. But ask them what they know about Rebecca Black, and you're likely to see a considerably more animated response.
Perhaps that fact says something profoundly negative about our culture. Perhaps it's a shame that we have collectively embraced something that is free, fast and intellectually easy as opposed to something that is textured, beautiful and more difficult to appreciate. Or perhaps that's not the point at all. Perhaps the strength of music cannot be defined just by how textured, beautiful and intellectually rewarding it is. Perhaps, sometimes, music reaches the pinnacle of its potential when it becomes something that we share, not something that we experience and appreciate in relative isolation.
Conventional wisdom says that "Friday" is just an inside joke that we're all in on. But Fallon and company performed it joyously, and the crowd's enthusiasm for that performance was anything but a show for the cameras. Maybe people love to hate "Friday," but they still love it—as evidenced by the fact that they continue to share it, propagate it and discuss it more than they have done with any song or artist in quite some time.
Over the past 15 years, our consumption of music has become tremendously idiosyncratic. Thanks to this infinite distribution stream called the internet, we can download or purchase any song or album made by any person anywhere in the world. And so our music collections reflect not simply our tastes, but our tastes and preferences with incredible specificity.
But while those collections satisfy our personal desires, they typically contain little collective energy. We listen to what we listen to because we like it, but there's almost no synergy between what we like and what our neighbor likes. Even within genres and musical movements, there seems to be a limitless string of sub-genres and sub-movements, all of which serve to divide music fans into an increasing number of increasingly small groups. And so our music connects us tightly to a few people, but hardly at all to society at large.
"Friday," in contrast, is a song that isn't constrained by niche, genre, generational or racial considerations. It's a song that we're all experiencing together. And whether we engage with it in appreciation or ridicule, it's encouraging us to talk to each about that shared experience.
That's something that just doesn't happen because of music very often these days.
Black made music that mattered socially, not just critically or commercially. And in doing so, she brought together a drastically disparate musical population–one that is more virtually connected, but more socially disconnected, than at any time in its history.
And if you ask me, that's the mark of a very good song—regardless of how inane the lyrics may be.