Album Review: Chromeo – Live From Montreal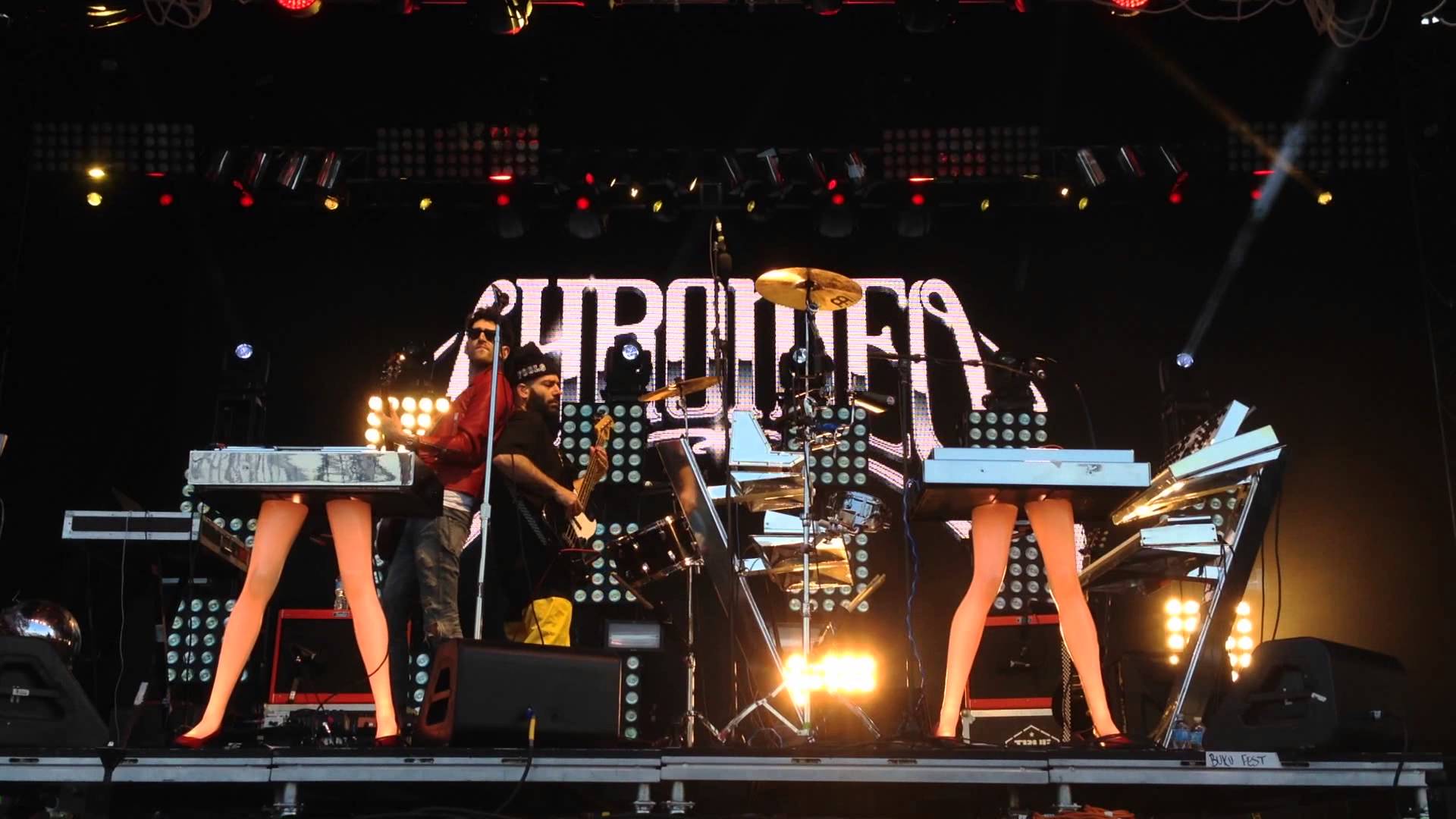 t may be a little bit gauche to really, really like Chromeo. The electro-funk duo love the '80s, but not in the post-punk way favored by many of their contemporaries; instead, they unabashedly cite Hall & Oates as a primary influence, even going so far as to perform with Daryl Hall at 2010's Bonnaroo. They've unironically covered the Eagles. All of their songs are about women—typically delivered with a wink and a nod—featuring lyrics like, "For sure if I tell you how to do my dance/Baby then you let me get in those pants."
Singer/guitarist David "Dave 1" Macklovitch's fashion sense tends to veer toward the Miami Vice side. If Chromeo were the self-referencing type, they would have turned out a song like Das Racist's "hahahaha jk?," telling critics, "We're not joking, just joking, we are joking, just joking."
However, Macklovitch and keyboardist Patrick "P-Thugg" Gemayel think that it shouldn't even be a question—of course they're not joking. And their tightly crafted electro jams show just how serious they are about their music, even when Macklovitch is laying it on thick with "Call me when you're sad, call me when you're mad, call me when you're home alone/Call me when you're freaky, call me when you're nasty, call me when you want to…mmm" in "Call Me Up."
Now, Chromeo have released an album that captures their live energy, recorded in their hometown of Montreal.
The iTunes exclusive release Live from Montreal was recorded at an Apple store for an audience of only 100 people, but they're obligingly audible with their cheers, handclaps and singalongs. Live, Chromeo's cheese/sleaze routine is pure exuberance. Macklovitch possesses the sort of preternatural charisma that, even from audio alone, it's clear that the crowd obeys when he commands, "Put your hands up!" (It also takes a preternatural confidence to pull off songs like "Bonafied Lovin'," a slick assertion of style and swagger.)
He doesn't do much in the way of between-songs banter, and Gemayel only speaks through the talkbox that has come to define Chromeo's sound, but their performance says everything to those 200 dancing feet.
The 13-song set features highlights from 2007 breakout album Fancy Footwork and 2010's Business Casual, as well as "You're So Gangsta," a high point of their admittedly hit-and-miss 2004 debut She's In Control. The show kicks off with Business Casual standout "I'm Not Contagious" before starting in on the established hits with the fun and funky "Tenderoni." New and old material blend seamlessly, from the electronic predilections of "Hot Mess" to the smooth "Waiting 4 U," one of Chromeo's most effective aggregates of '80s vibes. The piano-driven oedipal ode "Momma's Boy" lightens things up after dancefloor banger "Night By Night."
There isn't much in the way of live experimentation—a little more talkboxed vocals here, an extra flourish there, an extended intro for "Night By Night" that steps up the drama—but the performance is tight and polished. The set is crafted for maximum dancing, and when Macklovitch simply introduces closing song "Fancy Footwork" with "How about some two-step?", the crowd's response sounds more ready than ever.
Live from Montreal does everything a live album should do, capturing the exhilaration of the concert experience. While there is a strong possibility that Macklovitch was sporting a white suit at the time of the recording, the sophisticated musicianship shows that it's acceptable to be as serious about Chromeo as Chromeo are about Hall & Oates.